We make this cilantro sauce recipe on a seriously regular basis. You'll find it drizzled over many of our recipes, from tacos to quesadillas to nachos.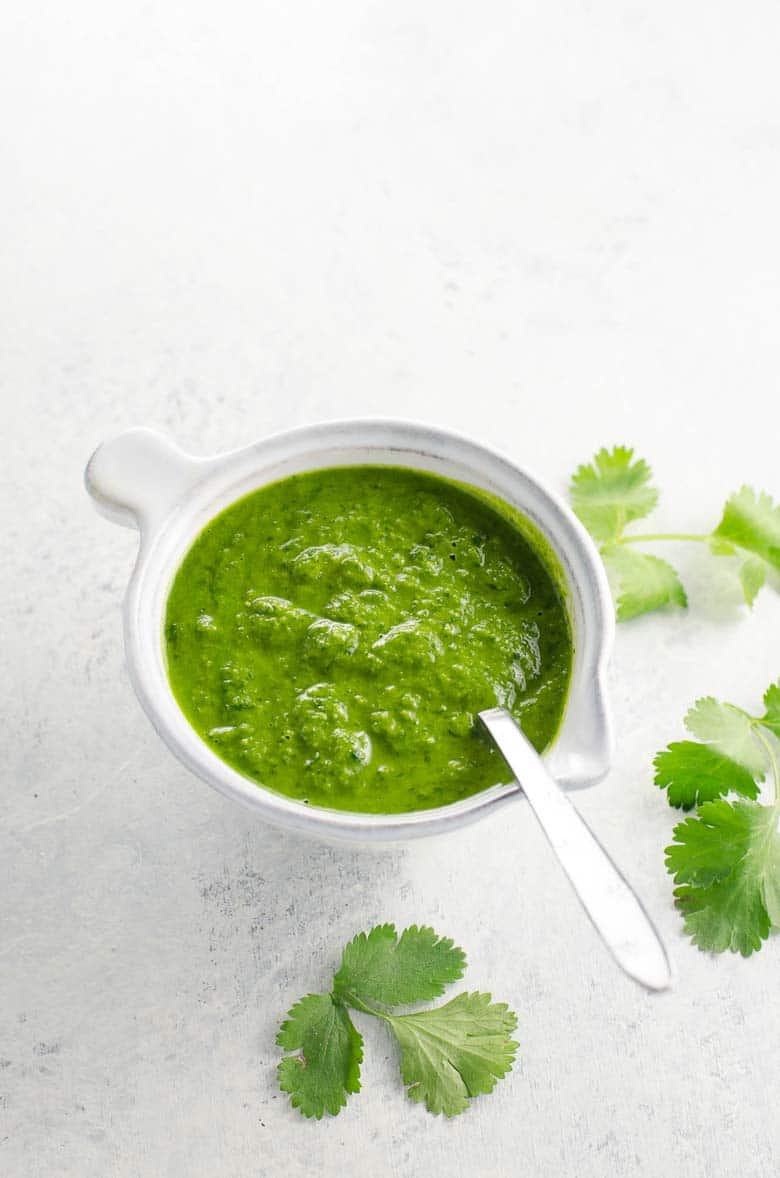 Why we love our cilantro sauce (and so many of you do, too)
This sauce is basically magic. As long as you're not a cilantro hater, we practically guarantee that you'll love it. It's a fabulous, healthy, and easy way to jazz up Mexican food as a no-brainer. (See below for a nice long list of perfectly appropriate uses in that realm.)
But it's also a great way to jazz up a wide variety of meals you may not think of right off the bat. We've been known to use it to dip pizza crust in, as a salad dressing, to add an extra layer of flavor to burgers, to turn a batch of simple lentils and rice into a memorable meal, and much more.
Cilantro sauce ingredients
You'll only need a few basic ingredients to make this versatile sauce:
Olive oil
Freshly squeezed lime juice
Garlic
Salt
Lots of roughly chopped fresh cilantro. You'll use both the leaves and the stems.
How to make cilantro sauce
This is a SUPER-easy recipe. You can see all the steps in action in the video that accompanies this post. You will:
Set up a blender or food processor and add the olive oil, lime juice, roughly chopped garlic, salt, and roughly chopped cilantro
Blitz it to your desired consistency. We like it pretty well blended, but you can keep it more roughly blended if you prefer.
Taste for salt and lime juice and add more if you like.
That's seriously it. Drizzle it on top of anything you can think of!
How long does cilantro sauce keep?
If you keep cilantro sauce tightly sealed in a jar in a nice cold fridge, it'll last for up to a week. The flavor will mellow a bit, but the generous amount of lime juice will prevent the cilantro from oxidizing too much.
This means it's great to keep a batch of cilantro sauce on hand (along with a batch of pickled red onions) at basically all times (give or take!) to help keep basic weeknight dinners interesting.
Protip
This is a great place to use the whole cilantro stem (minus any roots and gnarly bits). Depending on your blender, you may need to chop them finely.
What to serve with cilantro sauce
The sky's the limit here, really. We've been known to drizzle this stuff on burgers, roast chicken, and leftover pizza and use it as a salad dressing. But here are a few of our top suggestions for what to serve with cilantro sauce:
Love sauces with fresh herbs?
You might also really like our chimichurri recipe.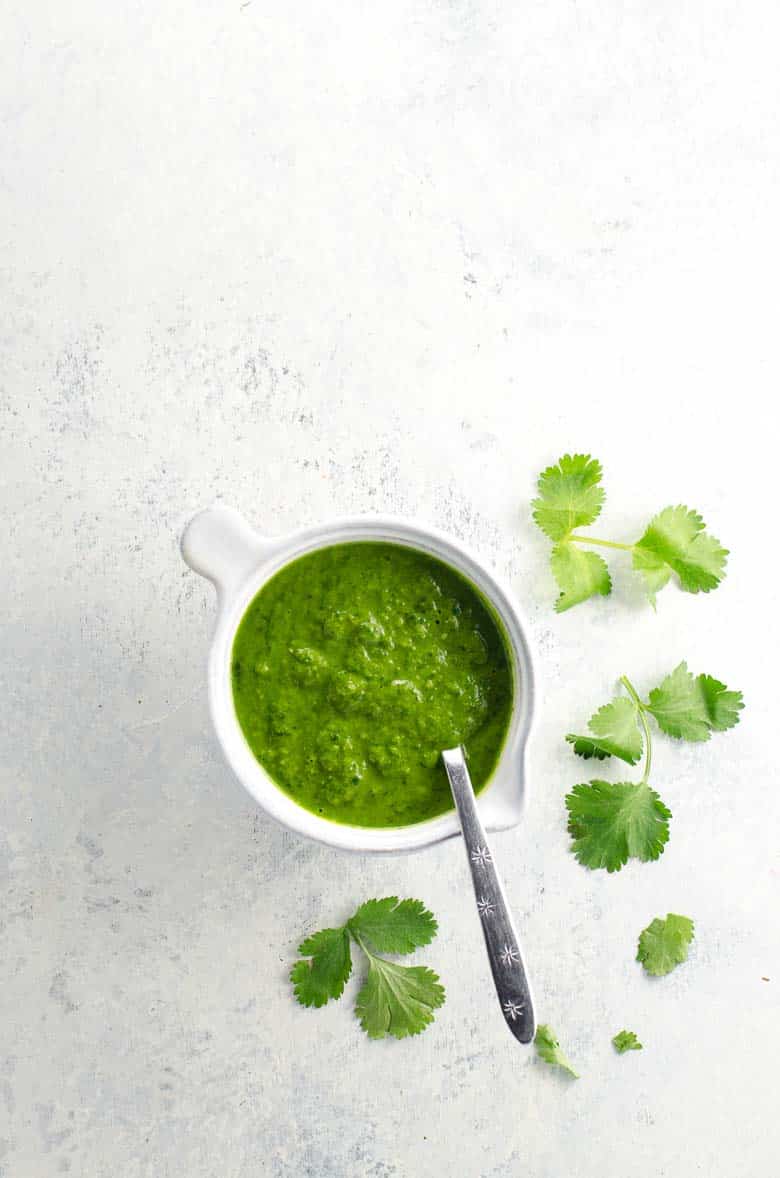 Yield: Serves 8
Cilantro Sauce Recipe
Drizzle this one all over your life. Wellness and happiness will ensue.
Ingredients
⅓ cup (78 ml) extra-virgin olive oil
Juice of one lime (2 to 3 tablespoons)
1 medium garlic clove, roughly chopped
¾ teaspoon fine sea salt
1 large bunch cilantro (about 4 ounces/114 grams), washed well, including stems
Instructions
Roughly chop cilantro. Combine all ingredients in a blender and blend until smooth, stopping to push cilantro down into the blades as necessary.
Recommended Products
As an Amazon Associate and member of other affiliate programs, I earn from qualifying purchases.
Nutrition Information:
Amount Per Serving:
Calories:

83
Total Fat:

9.4g
Carbohydrates:

0.8g
Fiber:

0.1g
Protein:

0.1g
P.S. Here's the quirky (and charming?) original text to this post from years ago.
Cilantro sauce is basically magic
This green stuff is cilantro sauce. And though my main point here is that cilantro sauce is appropriate just about any time and place, drizzled over or guzzled from just about anything, the green stuff is also an anachronism.
That's because the original home of cilantro sauce is atop black bean tacos, and I wrote about black bean tacos six months ago. Without cilantro sauce, for whatever reason.
But now, if you look closely at the tacos recipe, you'll see a link to this post for cilantro sauce. As if it had been there all along. As if maybe you just didn't notice it until now.
To be honest, it's a little bit of both. Whadda you say we drizzle it with cilantro sauce and call it a day?
Anachronism, what now?
P.S. I know you're all smarter than average. Obviously. But just in case you were one of the people who, let's say, stepped out for a minute to look up the definition of anachronism and then came back, I just want to say this to you.
Thanks for coming back. Your follow-through — your "sticktoitiveness," as my dad would have said — will get you way further in this world than an A-minus vocabulary.
Also, just so you know we're all in this together: Last week, at age 35, I suddenly realized that when people say "let's leave well enough alone," it's something already done well enough that they're agreeing to leave alone. Because, you know, it's already done well enough. Just like everyone's been saying, out loud, for my whole life.
Before that, I just thought people had all agreed to use a weird way of saying, "Let's leave that alone." So. See? We're all in this together.