As an Amazon Associate, I earn from qualifying purchases.
Great for breakfast or a snack, this mellow cranberry smoothie with clementine is as delicious as it is good for your bod.
Tip
An optional splash of sparkling water takes this smoothie into festive territory.
This cranberry smoothie is easy to love
Cranberry season doesn't need to end with Thanksgiving. This mellow smoothie is an easy, healthful way to pack some more cranberry goodness into your life. And who couldn't use a little mellow goodness before the December holidays arrive? Or really anytime — since this recipe uses frozen cranberries, you don't have to stop in December.

Yield: 2
Mellow Cranberry Smoothie with Clementine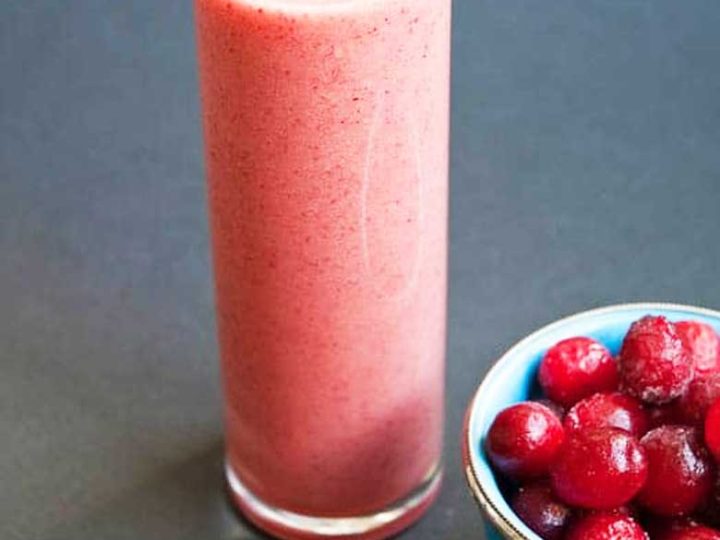 Fresh cranberries have so much potential beyond that little dollop of sauce sitting next to the Thanksgiving turkey, but it often goes unexplored. Why not round out your cranberry season with this healthful smoothie? It has a mild cranberry flavor with hints of banana, orange, and spice and is an easy way to pack a little more cranberry goodness into your life before the season disappears.
Ingredients
1/2 cup frozen cranberries
1 medium frozen banana, peeled and sliced
2 clementines, peeled, seeded, and broken into sections
2 Medjool dates, pitted (or substitute 2 tablespoons sweetener of your choice)
1/2 cup cranberry juice
1/4 teaspoon vanilla extract
1/4 teaspoon ground cinnamon
Splash of sparkling water, optional
Instructions
Combine cranberries, banana slices, clementine sections, cranberry juice, vanilla, and cinnamon in a blender and puree until perfectly smooth.
Divide between two tall glasses and, if desired, stir a good splash of sparkling water into each.
Serve immediately.
Recommended Products
As an Amazon Associate and member of other affiliate programs, I earn from qualifying purchases.
Nutrition Information:
Amount Per Serving:
Calories:

197
Total Fat:

0.5g
Carbohydrates:

51.4g
Fiber:

5.5g
Protein:

2.1g