Looking into smoothie subscription boxes? Here's everything you need to know about SmoothieBox: How it works, how to make the most of it, and whether it's the right fit for you.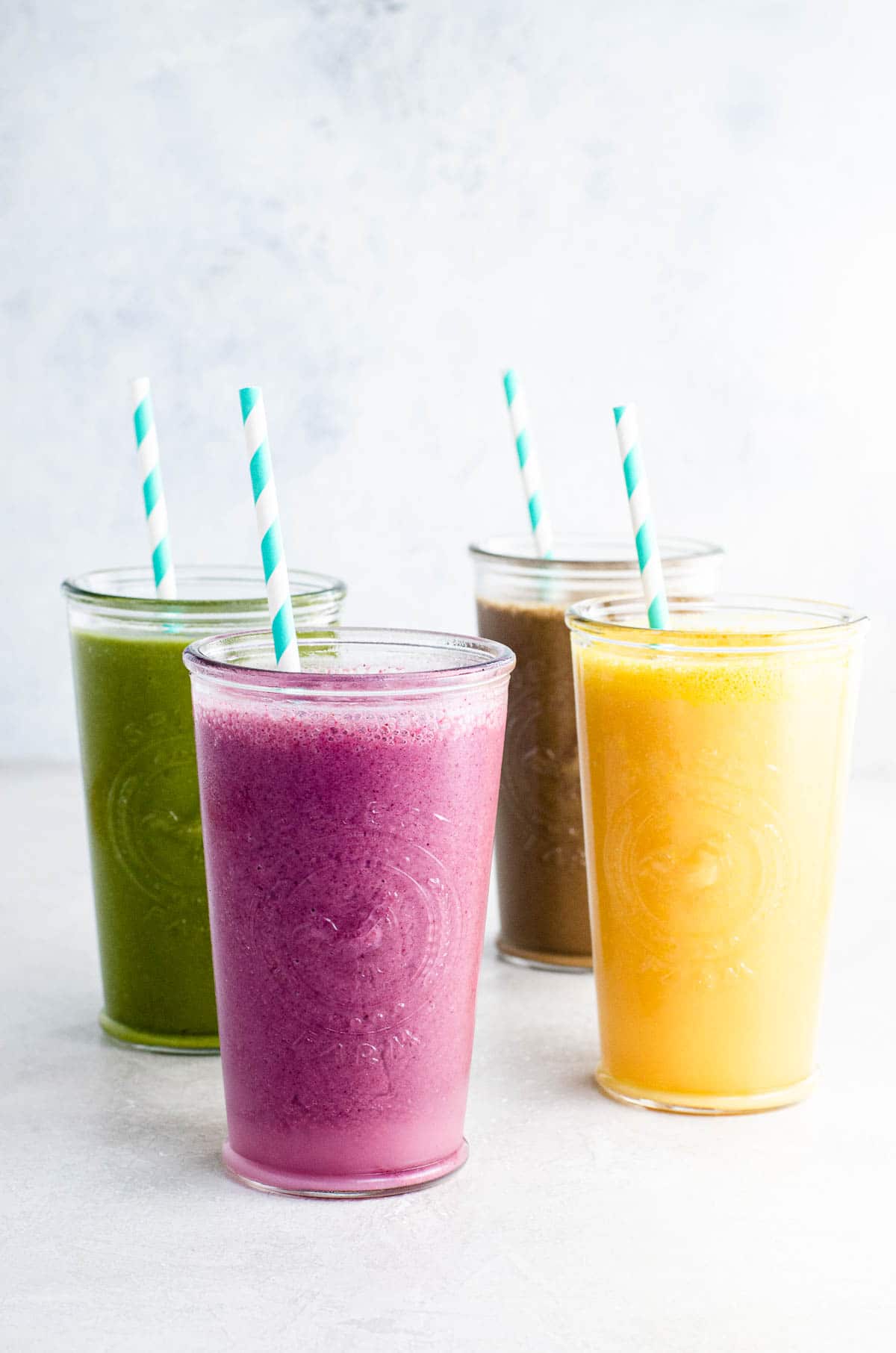 Why I wrote this post
Before we get started, I want to take a minute to tell you why I wrote this post.
Not to brag, but I've been a smoothie professional for many years. (Not even kidding.) I've developed many recipes and for several years even wrote a weekly column about juices and smoothies for a major publication.
I really like making homemade smoothies, and you can find lots of from-scratch recipes on this site. But do you know what else I really like? Convenience. And healthy habits. And having a team of helpers low-key looking out for my family's well-being. A smoothie box makes all that happen.
This isn't a sponsored post. But because I found myself telling everyone about it anyway, Umami Girl did become a SmoothieBox partner. That means that if this post helps you decide to give it a try, and you choose to click through on one of the links here, I'll earn a small fraction of the price as a commission, with no additional cost to you.
SmoothieBox discount code
Great news! You can use the discount code UMAMIGIRL at checkout to get $35 off your first box. Hope you love it.
What it is
First, the basics.
This is a smoothie box subscription service that delivers frozen smoothie packs to your door. Smoothie packs are made from 100% real fruits, vegetables, and healthy fats (like whole pumpkin seeds and hemp seeds).
FYI for fellow business nerds: The company is an offshoot of Butcher Box, which I adore. The products that these companies deliver are easy to believe in, and so are their business practices. Smoothie Box offers an optional protein add-in: grass-fed collagen peptides (which are sourced from grass-fed cows, just like Butcher Box beef). It's genius. Just sayin.
How it works
Your smoothie box gets delivered to your door in a carefully insulated, 100% recyclable cardboard box. Dry ice keeps your smoothie packets frozen in transit, and there may still be some inside when you receive it. Inside you'll find a few smaller cardboard boxes, each containing five pre-portioned smoothie packets sorted by flavor.
I like to store the packets in my freezer right in the boxes to keep things organized.
When you're ready to make a smoothie, it couldn't be easier. You will:
Pour the contents of one packet into the blender
Pour in 8-10 ounces of liquid of your choice. There are suggestions for each flavor, but you can use whatever you like.
Totally optional: Add any ingredients you like — protein powder, nut butter, cacao nibs, extra leafy greens — or nothing at all.
Blend until smooth. That's it!
The ordering process
Here's how the smoothie box ordering process works.
Step 1: Choose your box size
First you'll choose the size of your box. You can get 4 x 5-packs, 5 x 5-packs, or create your own custom box.
Step 2: Choose your flavors
In the smaller-size box, you've got two default options: chocolate, orange, berry, and banana strawberry or green, orange, banana strawberry, and berry. The larger-size box contains orange, berry, banana strawberry, green, and mango. Or create your own custom box.
Step 3: Choose your boosters (optional)
Over the years SmoothieBox has added quite a few great mix-ins that you can add to your order if you like:
Banana bites (frozen banana slices)
Grass-fed collagen peptides
Vanilla or chocolate whey protein
SuperGreens
Vegan vanilla protein
Step 4: Check out
Add the discount code UMAMIGIRL for $35 off your first box, proceed through the checkout process, and get excited about your first delivery!
How much it costs
As of December, 2023, your smoothie box costs $8 per smoothie, which is $4 per serving. These are large, filling smoothies that are satisfying enough to serve as an entire meal (especially if you add protein). Each smoothie box packet technically contains two servings, which is great you plan to serve them as snacks or share your morning or post-workout ritual with a partner.
Don't forget to add the discount code UMAMIGIRL for $35 off your first box. All orders come with free shipping.
Nutrition
In the nutrition department, a smoothie box has SO much to recommend it. The smoothies are:
Packed with nutrients and made from 100% whole fruits, veggies, and healthy fat sources like coconut and seeds
Made from mostly organic, non-GMO ingredients (the pineapple, green apple, and mandarin are not yet sourced organically)
Dairy-free
Gluten-free
Free from added sugar and other additives. They're not super-sweet at all, so you can control the level of sweetness on your own.
Pre-portioned, which I find to be a major benefit
Flavors
The smoothie box packs now come in six flavors, and you can choose whether to get a variety pack or customize your box with your favorites. The newer flavors (which I haven't had a chance to sample, but which have become quite popular) are mango and strawberry banana. The original flavors are:
Berry
What it tastes like: Bright fresh berries — a little bit tangy, a little bit sweet, with a hint of banana flavor. This one might be my favorite.
Ingredients: Strawberries, Wild Blueberries, Sweet Potato Puree, Banana Puree, Raw Hemp Seeds, Lemon Juice, Beet Juice Concentrate, Cauliflower.
How to customize: Sometimes I blend up this flavor with half water and half soy milk. For a sweeter option, you can use juice or add a chopped date. Add a scoop of peanut or almond butter for a PB&J smoothie. This one makes a gorgeous smoothie bowl if you add a little less liquid and top with fresh berries, sliced bananas, coconut flakes, and some granola or muesli.
Chocolate
What it tastes like: A less-sweet but still satisfying chocolate frosty. This is the other contender for my favorite flavor.
Ingredients: Bananas, Zucchini, Kale, Sunflower Kernels, Coconut Water, Banana Puree, Coconut Cream, Cocoa Beans, Cocoa Powder, Sea Salt
How to customize: In the morning, make this one with cold brew or other iced coffee. Add extra cacao (nibs or powder) and even some maca if you're into that sort of thing. For extra sweetness, add a chopped date.
Orange
What it tastes like: Everyone says this flavor tastes like a creamsicle — and it seems to be so many people's favorite. I'll be honest — that's not the vibe I get from this flavor, and it isn't my personal top choice. Statistics suggest you'll agree with the crowd.
Ingredients: Mandarin Sweet Potato, Carrots, Ginger, Coconut Cream, Lemon Juice, Pumpkin Seeds, Coconut Water, Dates
How to customize: There are two ways to go with this flavor: either lean in to its orange flavors and blend with a sweeter liquid (fresh orange juice or coconut water) to bring out those flavors. Or lean into its savory side by blending with almond milk or yogurt.
Green
What it tastes like: A bright, vegetal, gingery green smoothie. I'm a big green smoothie fan and like leaning into the fresh vibes of this flavor.
Ingredients: Chopped Spinach, Granny Smith Apples, Avocado, Pineapple, Lemon Juice, Apple Juice, Flax Seed, Hemp Hearts
How to customize: Blend with water, coconut water, or pineapple juice for a little sweetness. Add extra leafy greens if you like. Or make it creamier with a frozen banana, extra avocado, or a couple of tablespoons of raw cashews.
At a glance: Expert tips and FAQs
How much does a smoothie box cost?

As of December, 2023, it's $8 per smoothie, which works out to $4 per serving.

What are the flavors?

There are six options: berry, chocolate, orange, green, strawberry banana, and mango. You can get a variety pack or customize your box with your favorite flavors.

Is it healthy?

Everyone's got a different definition of healthy eating that's best for their personal needs. But in general, the answer is a resounding yes. These smoothies are organic, gluten- and dairy-free, have no added sugar or other additives, and made from whole foods. They're well-balanced nutritionally and customizable to suit your preferences.

What is the cancellation policy?

You can pause or cancel anytime until 24 hours before the billing cycle renews.

Is smoothie box worth it?

For me, the convenience, portion control, and nudge toward healthy habits are easily worth the cost. In the section below, I've laid out some factors that can help you decide whether it's right for you.
How do I sign up?

Click here to get started.

So, is a smoothie box worth it?
I think the answer depends on your lifestyle and budget. Here's why:
Could you source all your own ingredients at the farmers' market during peak season, freeze them yourself, and make these smoothies less expensively? Probably. Would you? Probably not. (I know I wouldn't, even though I'm kind of a farmers' market and CSA obsessive.) That said, if you have more time than money, it's worth assessing whether you can make your own smoothies at substantially lower cost, and balancing that analysis with an honest assessment of whether you will.
Compared to buying smoothies at the gym or a smoothie bar, at least in my area, a smoothie box is way less expensive. (I'd typically pay $12 for a small smoothie, which — let's just say it — is madness.)
For me, having these easy-to-use packets in my freezer, and knowing they'll come on a regular schedule, encourages me to make healthy choices even when I'm rushed in the morning or starving after a long workout. That in itself has value.
Even though I enjoy making smoothies from scratch, they can tend to get huge if I'm overzealous about adding ingredients. That gets expensive in terms of both money and calories. I appreciate the pre-portioned smoothie packs a lot for that reason (especially the low-key calorie control as I get older, sad but true).
For me, it's 100% worth it for the convenience, portion control, and ingredient sourcing. I hope the information I've shared here will help you decide whether it's right for you.
Got questions?
I'm always happy to help. Please feel free to leave questions in the comment section below or reach out to me privately here.