Rhubarb juice is one of those deceptively simple recipes, passed down through friends of friends, that everyone adores for its uniqueness. It's SO easy to make in advance and is a gorgeous, festive pink.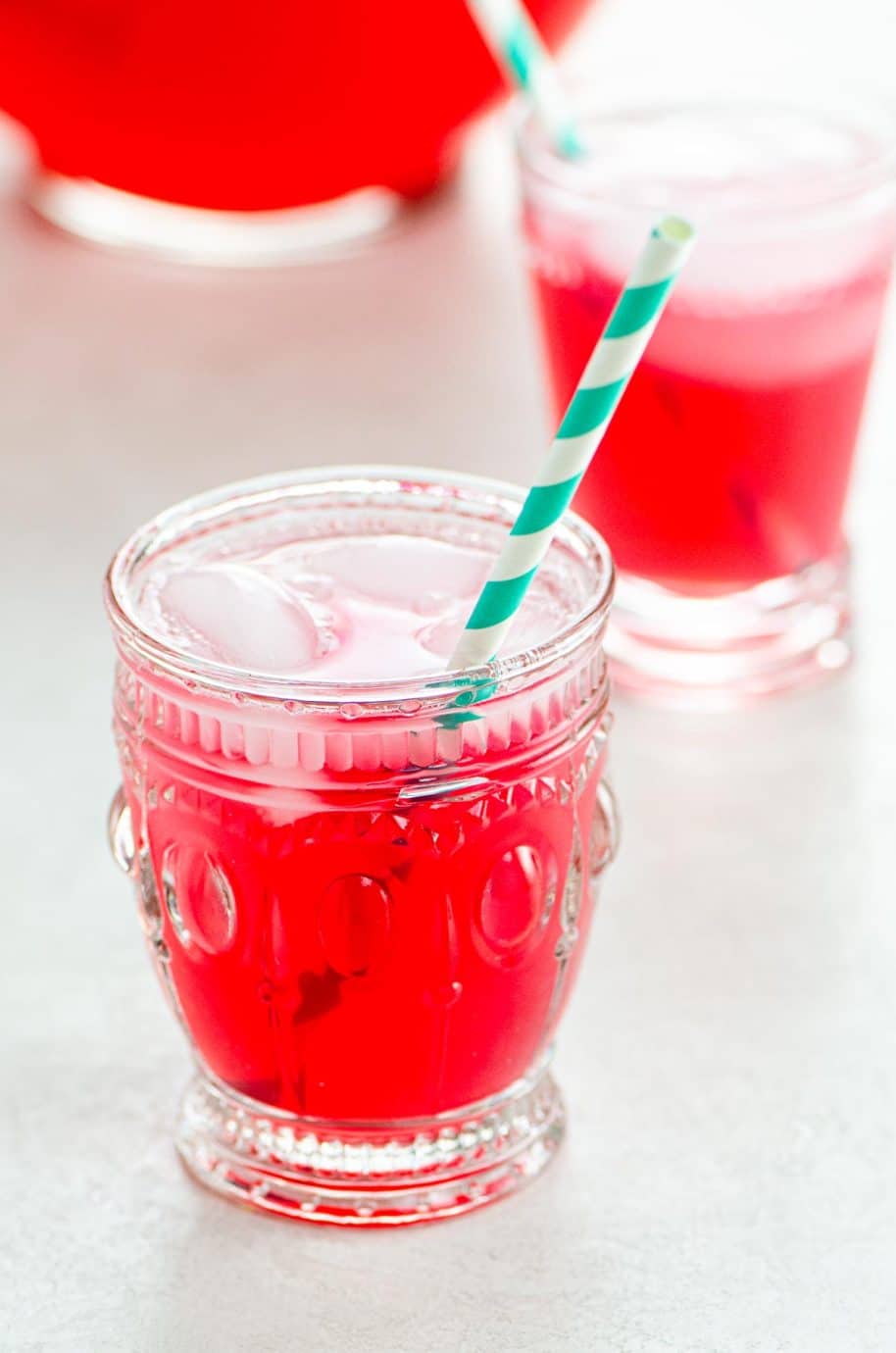 Why we love this recipe
This delightful rhubarb juice is an unexpected treat. It's one of those recipes that people will ask for immediately, and you'll be glad to share it. This juice:
Has only two ingredients
Uses no added sweeteners
Is super-refreshing
Will be unfamiliar to most people, even though it's an age-old recipe. It's fun to introduce your friends to new/old things!
Ingredients for rhubarb juice
It's almost embarrassing how little you need to make this recipe. It's just fresh rhubarb stalks and water!
Rhubarb is in season in much of the United States in the late spring and early summer.
In the UK, rhubarb is "forced," resulting in an earlier crop and sweeter, more tender stems. If you can find forced rhubarb, it makes the BEST juice (and the best everything).
Where possible, look for thinner, redder, more tender stems and shiny skin.
How to make this recipe
Rhubarb juice could not be easier to make. Here's what you'll do. You can see all the steps in action in the video that accompanies this post.
Trim the ends off each rhubarb stalk. If there are any leaves attached, discard them. (They contain oxalic acid and are poisonous.) Slice the rhubarb into segments about an inch long.
Add them to a big pot with water and bring to a boil.
Simmer for 20 minutes.
Strain through a fine-mesh sieve. After letting the juice cool completely, you'll pour off the clear pink juice and leave the cloudy yellow sludge behind at the bottom of the bowl.
How to serve rhubarb juice
You've got a few options for serving this rhubarb juice recipe. Whichever you choose, make sure it's well-chilled. You can:
Serve it fully concentrated over ice for a brisk, tart drink with a slightly vegetal taste. We love it just like this.
Cut it with 1:1 or even 2:1 cold still water or sparkling water and serve over ice for a less intensely flavored beverage.
Add a touch of sweetener if you like. You can use simple syrup (add slowly to taste) or any other liquid sweetener you prefer
Use it as a mixer for simple cocktails. It pairs especially well with vodka and gin.
Expert tips and FAQs
Seriously? No sugar?

Seriously! No sugar. Even though raw rhubarb is extremely sour, simmering it takes the edge off. Of course, you can mix or sweeten this juice as suggested above if you like.

Can you make this recipe with frozen rhubarb?

You sure can! If you want to enjoy this juice out of season, a great way to do it is to use frozen produce. Here's our post on how to make that happen.
More favorite ways to use rhubarb
We absolutely adore this perfectly balanced strawberry rhubarb crisp, a best-in-class rhubarb coffee cake, lower-sugar strawberry rhubarb jam, and our simple strawberry rhubarb compote. Don't miss them during rhubarb season.
Yield: 8
Simple and Brisk Rhubarb Juice
This is one of those deceptively simple recipes, passed down through friends of friends, that everyone adores for its uniqueness. Once chilled, the juice is brisk and refreshing. It has a mixture of tartness and sweetness that resembles homemade lemonade.
Additional Time
20 minutes
Ingredients
2 pounds (900 grams) rhubarb stalks
8 cups (1900 mL) water
Instructions
Slice the rhubarb stalks crosswise into one-inch segments. Place rhubarb segments into a large pot along with the water. Bring to a boil over high heat, then cover and reduce heat to simmer for 20 minutes.
Strain liquid through a fine-mesh strainer into a pitcher or spouted bowl, pressing on the solids in the strainer to extract as much juice as possible.
After 20 minutes, the juice will separate, leaving a yellowish sludge at the bottom. Decant the clear pink liquid into a clean bottle or pitcher, leaving the sludge behind. Chill for a few hours at least, and serve cold over ice.
Notes
There are so many ways to serve rhubarb juice. You can pour it straight over ice, cut it 1:1 or 2:1 with still or sparkling water, stir in a bit of simple syrup or other liquid sweetener, or use it as a mixer for vodka or gin.
Use a fine-mesh strainer like this one. You can line it with cheesecloth or a nut milk bag if you like, but it's not necessary.
Store the juice in the fridge in an airtight container for up to a week.
Unlike when you make syrup, the pulp is pretty spent after being boiled in a large volume of water. We suggest discarding it.
I first published this recipe on Serious Eats back in 2013.
Nutrition Information:
Amount Per Serving:
Calories:

24
Total Fat:

0.2g
Carbohydrates:

5.1g
Fiber:

0g
Protein:

1g