Immersion blender hollandaise sauce is quick, foolproof, consistent, and just SO good. It's one of those smart-person party tricks — dare I say life hacks? — that makes you look impressive without really requiring much skill. Don't miss it.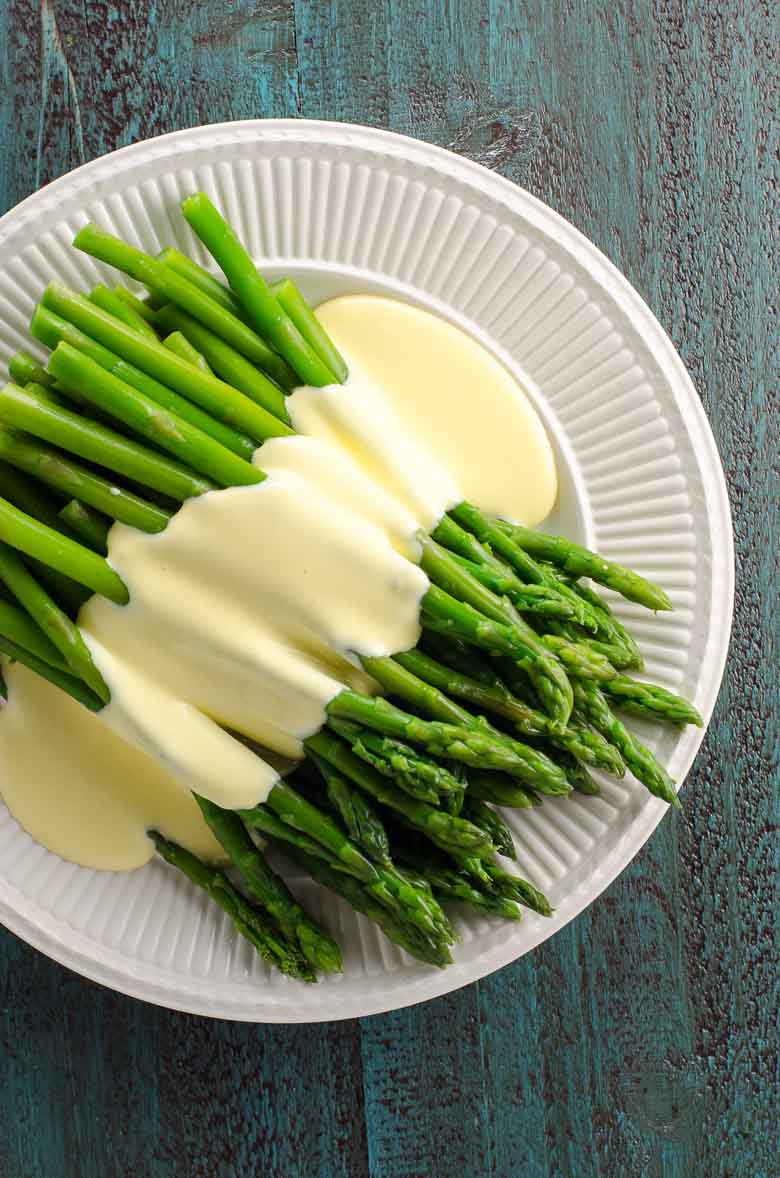 Why we love this recipe, and why it works
Immersion blender hollandaise sauce is almost too good to be true. It's silky and luxurious and indistinguishable from hollandaise made using the classic, notoriously finicky method. (I learned that method in culinary school and persisted with it at home for quite a few years, but it's truly unnecessary when making hollandaise in human quantities in your own kitchen.)
This recipe is:
Ready in five minutes
Made with just five ingredients
Totally foolproof
Ridiculously, game-changingly delicious
Hollandaise sauce is an emulsion, which feels like the place where science and magic intersect. Fat and water don't like to mix, but by creating the perfect conditions, you can suspend tiny droplets of one in the other, creating something silky and ethereal.
The immersion blender method uses the same basic tools as the traditional one — time, temperature, and agitation — but with a couple of twists. For one thing, we let the very hot butter heat the egg yolks just enough as we stream it in, which yields much less risk of overcooking the egg. And by creating what's essentially a tiny sauce tornado in a cup (a tempest in a teapot, but much tastier), we take the labor and the guesswork and out of the whisking process.
What you'll need
Here's a glance at the ingredients you'll need to make this recipe. It's not much! With just a few ingredients, use the best quality you can find.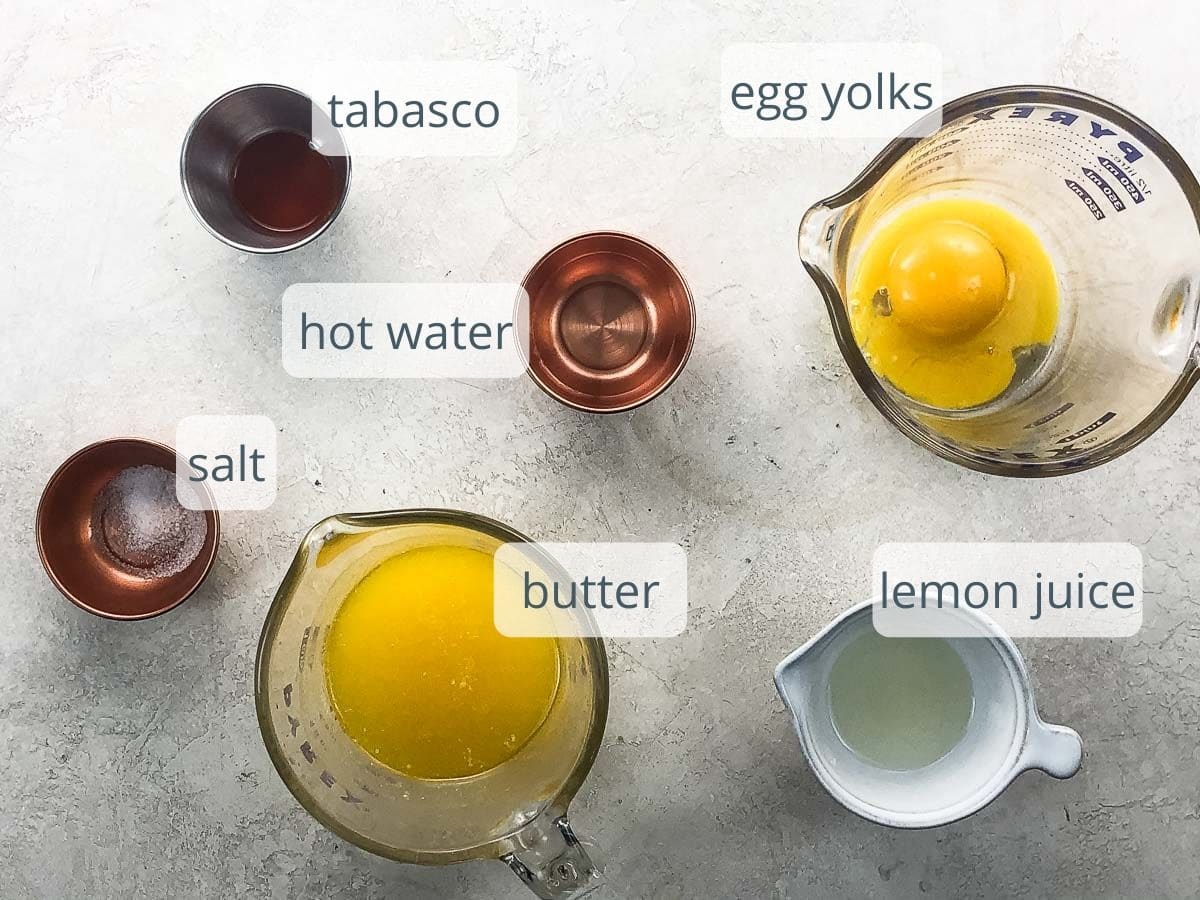 Fun fact: Egg yolks are the emulsifiers in this recipe. This incredible food contains some amino acids that attract water and some that repel it. Use good-quality eggs in this recipe for both taste and food safety.
Our recipe uses a little bit more freshly squeezed lemon juice than most. It brightens the flavor of this sauce in the best possible way.
A delicious butter goes a long way since it's the main ingredient. I like to use cultured butter from grass-fed cows.
How to make it
Here's what you'll do to make perfect immersion blender hollandaise in five minutes or less. You can see all the steps in action in the video that accompanies this post. Get all the details in the recipe card below.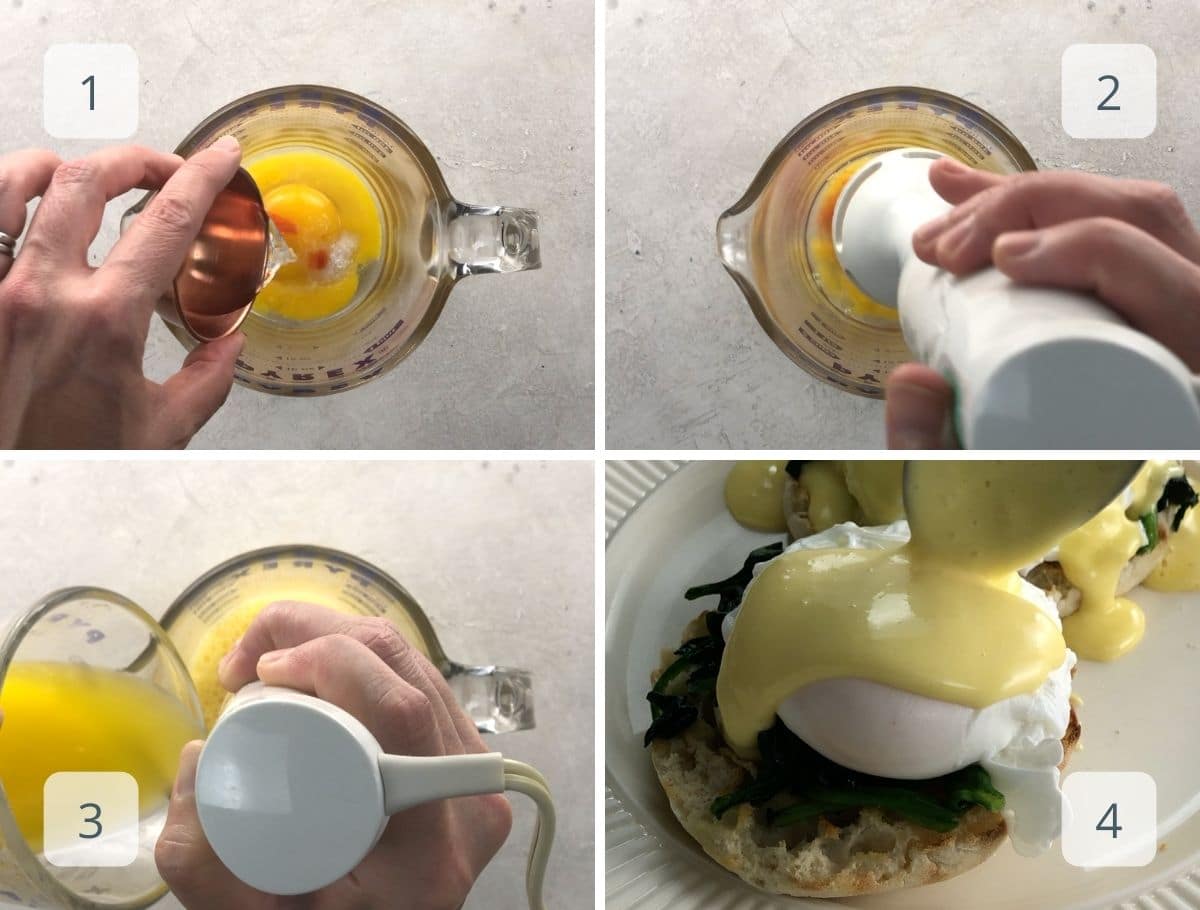 Find a glass 2-cup measure, the tall mixing container that came with your immersion blender, or another container that fits the business end of the blender fairly snugly. Add the egg yolks, lemon juice, salt, tabasco, and very hot water.
Place the blender against the bottom of the container and give it a quick spin to combine the ingredients.
With the blender running, slowly stream in the very hot butter. This part of the process should take about 30 seconds from start to finish.
That's it! The sauce is ready to use. The sooner the better, though I've found that this version of hollandaise is quite stable and can even be gently reheated in the microwave at half power.
Expert tips and FAQs
There are a few low-key tips to successful Hollandaise using the stick blender method.
What butter should I use?

Since it's the star of the show, go for the best butter you can find. I adore Kerrygold (not sponsored, just fangirling). It's widely available, not expensive, comes from grass-fed cows and is cultured for that tang that I can't live without anymore.

What container should I use for blending?

This method works best if the container you blend in fits the business end of your stick blender fairly snugly. See the notes in the recipe for details. It's not a huge deal, but it makes things easier.

How quickly should I pour the butter?

There's a sweet spot for how quickly you pour the butter. With the blender method it's quite flexible, but for a perfect sauce that's gorgeously emulsified but not too thick, just try to pour the butter in a thin, steady stream. If you need to take a break from pouring, stop the blender too. Promise me you won't let this scare you — it shouldn't.

It's important that the butter is very hot when you pour it, so it will cook the yolks enough and yield a nice, thick sauce.

Can I make this sauce in advance?

Hollandaise (even the stick blender version) is best when served immediately. That said, I find this version holds very well. Keep it in a warm spot for an hour or so if you need to make it slightly in advance.

Can I keep leftovers?

The conventional wisdom is that hollandaise doesn't keep or reheat. I have found this not to be true for the immersion blender version. Don't go out of your way to make it in advance, but if you have leftovers, store them tightly sealed in the fridge for a day or two and reheat very gently. I use the microwave at 50% power, quit while I'm ahead, and give it a good stir. If you're careful, the sauce won't break.

How to serve it
Here are a few of our favorite ways to use this fabulous sauce:
Steamed vegetables (asparagus, broccoli, broccolini, and more)
And here are two great ways to use up leftover egg whites:
Yield: Serves 4
Immersion Blender Hollandaise Sauce
Silky, sophisticated hollandaise sauce is notoriously tricky to make. This method is so quick, easy and nearly impossible to screw up that it's almost too good to be true.
Ingredients
2 large egg yolks
1 tablespoon (15 ml) fresh lemon juice
¼ teaspoon fine sea salt (more to taste)
10 dashes Tabasco sauce
1 tablespoon (15 ml) very hot water
1 stick (8 tablespoons) (112 grams) unsalted butter
Instructions
Place egg yolks, lemon juice, salt, Tobasco, and water in a 2-cup glass measuring cup or the tall container that came with your stick blender. In a small pot, heat butter until fully melted and very hot and bubbly. Transfer butter to the 1-cup measuring cup for easy pouring.
Place the blender into the 2-cup measuring cup or the tall blender container, touching the bottom, and turn it on. Drizzle in the very hot butter in a slow, steady stream until it's gone. This should take 30 seconds to a minute and leave you with a beautifully emulsified Hollandaise sauce. Taste for salt.
Serve over vegetables, fish, chicken, or steak or with Eggs Benedict or Florentine. And hey, maybe use those egg whites for a Pavlova, another great party trick.
Notes
You can find a stick blender and a set of 1-cup and 2-cup glass measuring cups here.
As always, use impeccably fresh eggs and source them carefully to avoid bacteria. 
Method and recipe inspired by quite a few sources over the years, but especially this one.
Since butter is the main ingredient here, choose the best one you can find. I really love Kerrygold, which comes from grass-fed cows and is cultured, giving it fabulous flavor and tang without a hefty price tag. (Believe it or not, this is an unsponsored post.)
Hollandaise likes to be served soon after making. You can keep it warm for an hour or so if necessary.
Conventional wisdom suggests that hollandaise cannot be kept and reheated. I have found this to be untrue for the immersion blender version. Don't go out of your way to make it in advance, but if you have leftovers, store them tightly sealed in the fridge for a day or two, and reheat very gently in the microwave or a double-boiler. The key is to use low heat, quit while you're ahead, and give it a good stir.
Nutrition Information:
Amount Per Serving:
Calories:

231
Total Fat:

25.2g
Carbohydrates:

0.6g
Fiber:

0g
Protein:

1.6g