If you've never tried slow-roasted salmon, don't wait another minute. Cooking salmon low and slow results in the MOST amazing, succulent texture, and — despite the name — it's ready in under 20 minutes.
Why we love this recipe
Oh, you GUYS. Slow-roasted salmon is an absolute revelation. It's just as easy as any roasted salmon recipe, and the texture is out of this world. Cooking salmon at a lower temperature allows the fat to melt slowly and infuse the flesh, leaving it impossibly tender and moist.
This salmon is:
Tender, flaky, and succulent
Super-flavorful
Really, really easy
Quick! It's ready in under 20 minutes, despite having "slow" in the title
What you'll need
You'll need just a few ingredients (and zero fancy ones) to make this easy salmon recipe.
We always choose wild salmon over farmed salmon. MSC-certified sockeye, coho, and king (chinook) salmon from Alaska are all great choices. You can make this recipe with whole filets or individual portions.
The skin won't get crispy, and you can decide whether you want to eat it. Place the fillets skin-side down for slow-roasting.
There may be pin bones running down the length of the filet's thicker side. It's best to pull these out before cooking (though it's also easy to miss a few). You can pull them right out with tweezers or with your fingertips.
How to make it
This slow-roasted salmon recipe really couldn't be easier. You can see all the steps in action in the video that accompanies this post.
Place the salmon skin-side down on a rimmed sheet pan or baking dish. I like to line it with parchment for easy cleanup, but you don't have to.
Remove any pin bones and rub the flesh with olive oil.
Sprinkle the other ingredients evenly over the salmon.
Slow-roast the salmon for 15 minutes in the center of a 275°F // 135°C oven. The flesh will be soft and tender and less opaque than salmon cooked at a higher temperature.
Expert tips and FAQs
What kind of salmon should I use?

For all of our recipes, we use Alaskan wild salmon for its superior sustainability, nutritional profile, and taste.

You'll find MSC-certified coho (the mildest), sockeye (brigher-colored with slightly higher fat content, pictured here), and king // chinook salmon available year-round. It's fresh in season, which is great, and flash-frozen on the boat in the off-season, which is truly also great.

How do I know when slow-roasted salmon is done?

When it's cooked, it will be softer and still a darker pink than salmon cooked at a higher temperature. As soon as the salmon is just barely opaque throughout, it's done.

You can refer to the video and the photo below to see what it looks like. Your mileage may vary (because ovens are crazy, amirite?), but 15 minutes should get you there, give or take.

Can I make this recipe in advance?

Sure can! This recipe is great at room temperature, so you can make it a few hours in advance if you're serving it as part of a buffet.


How to serve it
You can make a lovely meal in 20 minutes by adding the following to your slow-roasted salmon, pictured below:
It also makes a great addition to a brunch, lunch, or dinner buffet — either warm or at room temperature. Or flake it into a great summer pasta.
Our favorite sources for meat
For years, I've been sourcing our meat from ButcherBox. We love this curated meat delivery service, which provides grass-finished beef, heritage breed pork, organic chicken, and more from small farms direct to the customer. You can learn more in my extensive Butcher Box review and unboxing.
Butcher Box is a great source for fish, too, which is why I'm tellin ya about it here. They have fabulous wild Alaskan salmon — and sea scallops, too.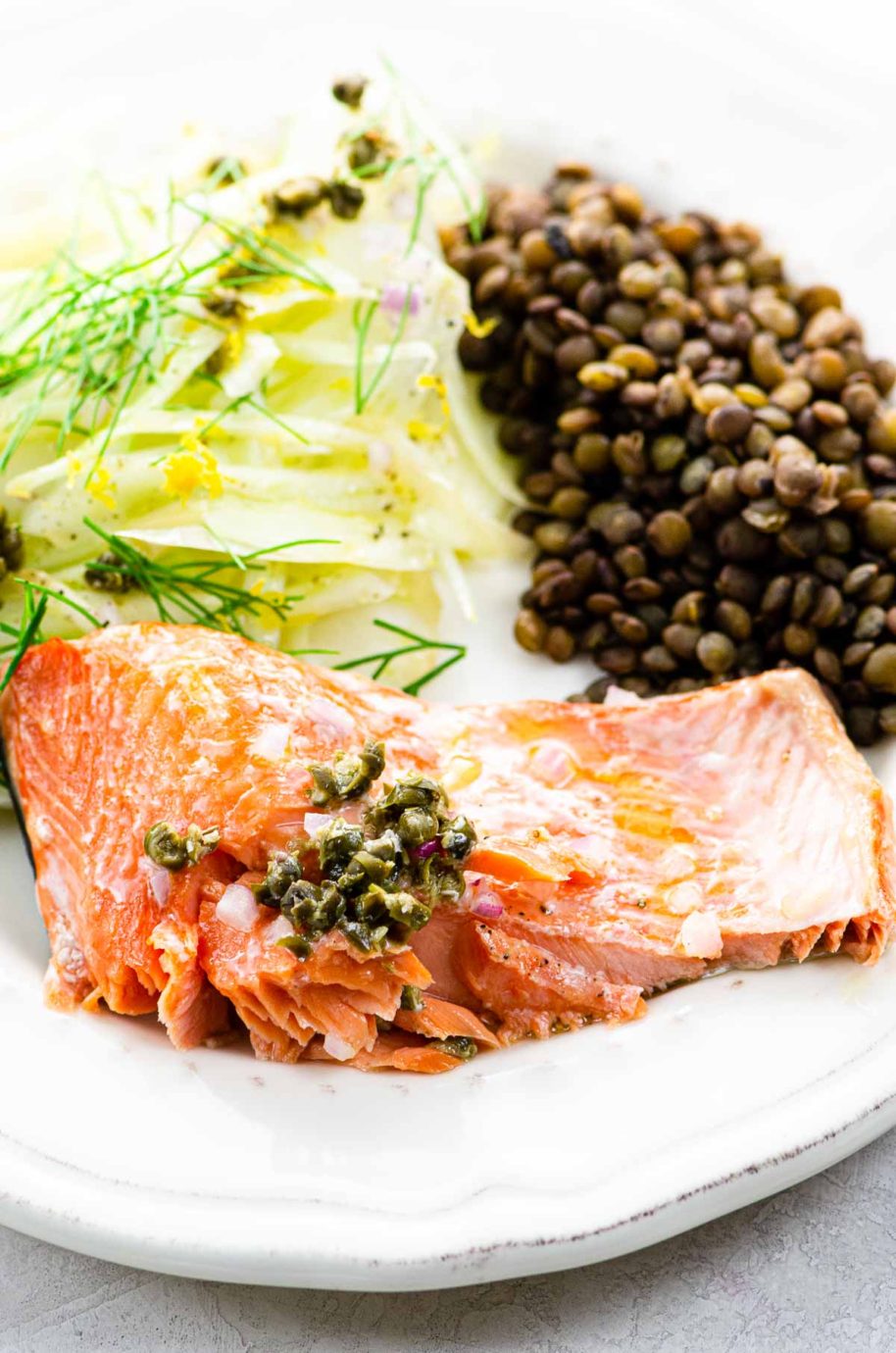 Yield: 4
Slow-roasted Salmon with Shallots and Capers
Slow-roasted salmon is so easy and so succulent. This technique works special magic with wild salmon, which has a lower fat content than farm-raised salmon and really benefits from the gentle heat.
Ingredients
1 ½ pounds wild salmon
2 tablespoons olive oil
1 small shallot, minced
2 tablespoons capers, minced
2 tablespoons freshly squeezed lemon juice
Salt and freshly ground black pepper
Instructions
Preheat the oven to 275° F // 135° C with a rack in the center.
Place the salmon skin-side down on a rimmed baking sheet or baking dish. Remove and discard any pin bones.
Rub the olive oil all over the flesh.
Sprinkle the salmon evenly with the shallots, capers, lemon juice, and a generous amount of salt and pepper.
Roast for 15 minutes. Flesh will be just barely opaque in the center, and still quite soft, when it's done.
Serve warm or at room temperature.
Notes
Wild salmon is the best salmon! Look for MSC-certified Alaskan coho, sockeye, or king // chinook salmon all year round. Fresh in season or previously frozen out of season is 100% fine.
You can use kitchen tweezers or the tips of your fingers to remove any pin bones. They run down the thick side of the filet, and if there are any, you'll be able to feel them by running your finger along the length of the filet.
I like to line the sheet pan with parchment for easy cleanup, but you don't have to.
Keep leftovers tightly sealed in the fridge for up to a week. You can serve leftovers as-is or reimagine them as part of other dishes, from salads to sandwiches to pasta.
Nutrition Information:
Yield:
4
Serving Size:
1
Amount Per Serving:
Calories:

383
Total Fat:

20g
Saturated Fat:

4g
Trans Fat:

0g
Unsaturated Fat:

15g
Cholesterol:

97mg
Sodium:

268mg
Carbohydrates:

2g
Fiber:

1g
Sugar:

1g
Protein:

47g