Here's everything you need to know if you're considering a visit to Storm King. First things first: You should definitely go. Then come back and explore our growing field trips section and plan your next low-key adventure.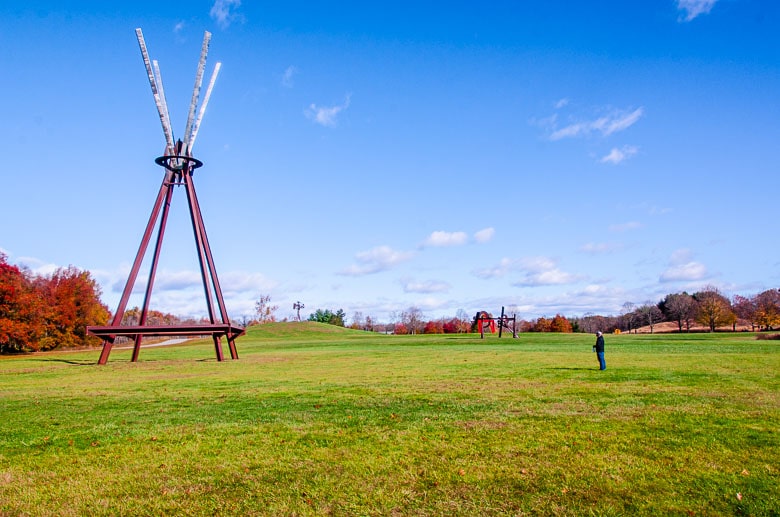 What is Storm King?
The one thing everyone in the greater New York area knows about Storm King is that they've always been meaning to stop there. I'm here to tell you that it's time to make it happen.
For those who've never driven by on the NY State Thruway and felt the pull, or wanted to dive into that episode of Master of None: Storm King Art Center is a 500-acre outdoor museum located in Cornwall, New York, about an hour's drive from New York City. It's home to a stunning collection of large-scale sculpture from some of the 20th century's best artists, nestled into a stunning Hudson Valley landscape. In a few cases — like Maya Lin's Wavefield — the landscape is the art.
What's it like to walk around the Art Center?
Storm King's collection includes large-scale works by many prominent sculptors. These masterpieces of steel, stone, iron, mirror, soil, and more interact with the landscape — shifting with the wind, casting shadows, reflecting sunlight. They dwarf you as you approach them, and the landscape, in turn, dwarfs even the biggest of them as you walk away.
One of the parts of this experience that really blew my mind was realizing that due to the wide-open landscape, there's really no hierarchy of viewpoints at Storm King.
It's clear that the works have been placed — and the grounds have been designed — carefully to integrate the art into the landscape and to facilitate a variety of sight-lines. But compared to an indoor museum, there are so many more places from which to view these sculptures, that it gives you the feeling you can choose your own adventure.
I kept wanting to stop everywhere and look again. Some of the sculptures look profoundly different from different angles and vantage points. And, of course, works of this scale don't let you get away with ignoring the logistical part of art making.
What's on display at Storm King?
There's a permanent collection (plus long-term loans) as well as exhibitions that change more frequently.
You'll find works by the following artists and many others:
Alexander Calder
Mark di Suvero
Andy Goldsworthy
Robert Grosvenor
Zhang Huan
Sol LeWitt
Alexander Liberman
Maya Lin
Henry Moore
Ursula von Rydingsvard
Richard Serra
When is the best time to go to Storm King?
Storm King is open to the public from early April through early December, plus a couple of winter weekends. Check the website for hours, since they vary from day to day and depending on the season.
We think the best time to go is during peak foliage weeks, usually mid-October through early November. If you can manage a weekday visit, it will be less crowded. Even though it's a big space, the sight lines are basically uninterrupted, so if there are other people there, you'll know it.
Is Storm King free?
On normal days, Storm King admission is $18 for adults, $15 for seniors, $8 for children 5-18, and free for kids 4 and under. You can consider becoming a member and getting free admission along with a host of other benefits (off-season access, member events, discounts at local shops).
There are occasional free admission days for non-members as well.
How do I get to Storm King? Where do I park?
Public transportation is a great option for Storm King if you're coming from the city. You can buy Metro North tickets at Grand Central Station that include discounted Storm King admission, and if you visit on the weekends, there's a shuttle from Beacon Station to the Art Center. There are bus options too, as well as trains from Penn Station. Check the website to learn more.
If you're driving, set your GPS to 1 Museum Road, New Windsor, NY 12553. Park on-site or at prepaid off-site parking with discounted admission, but not on the local roads.
Is there food at Storm King?
There's an outdoor café that serves sandwiches, soups, salads, chili, and drinks (including beer and wine). On weekends and holidays, there's also a café cart and food truck. The menu looks nice (and is locally sourced and organic when possible), but I don't know for sure because we didn't eat there. We had a great lunch at Meyer's Olde Dutch in Beacon, after a few hours at Storm King and before a lovely hour at Dia:Beacon. If you're looking for a great little day-trip itinerary, there you go.
Who owns Storm King?
The nonprofit Storm King Art Center was founded in 1960 by H. Peter Stern and Ralph E. Ogden, the co-owners of Star Expansion Company. The Ralph E. Ogden Foundation donated the museum building and surrounding property. Over time, Star Expansion Company contributed 300 additional acres that remain with Storm King, plus over 2,000 acres now owned by the State of New York and called Schunnemunk Mountain State Park, which help preserve Storm King's epic views.
Why is it called Storm King?
The Art Center is named for nearby Storm King Mountain. Which will be nice to know when I inevitably change my name to Storm King Gratzer Cope at some point in the future, because there's never been a cooler name ever.
How long should I plan to stay at Storm King?
We found that two to three hours on a blustery Friday afternoon, followed by lunch and a visit to Dia:Beacon, made a really wonderful day. We didn't see everything — and in fact didn't even go inside the museum building, which was closed due to power problems from a storm the night before. (Storm King indeed.) (No worries, even I don't know what I mean by that.)
That's how we tend to approach museums, and I love it. No pressure to see absolutely everything. We sometimes blame it on the kids, but we were 100% kid-free at Storm King and still happy to leave some sights unseen for a second visit.
If that's not your jam, allow at least four hours.
Is Storm King kid-friendly?
Speaking of kids, we saw maybe the happiest field trip ever at Storm King. Lots of art exposure, but also the opportunity to sprint to the tops of hills and roll down giggling.
Bring your kids to this place. Please and thank you. We'll be doing the same next time we go, because it's just plain unfair for them to miss it.
Is Storm King accessible?
There's nearby parking, an elevator, and gravel paths that are stroller- and wheelchair-accessible. I think you could stay on the paths for your whole visit and have a nice experience. During our visit we walked a lot on grass, including some very flat areas, but also some steeper and wetter sections, which those on wheels might want to avoid.
Can I bring my dog to Storm King?
Nope, sorry. Storm King has a strict no-pets policy that includes emotional support animals and therapy dogs. Your ADA Title III service animal is welcome.
While we were there, our friend suggested they institute a Dogs Day once a year. Just putting that out there into the universe.
Still have questions?
Feel free to contact me. Talk to you soon. xx
Carolyn