Knowing how to make really good rice will get you pretty far in life, just sayin. Instant Pot sushi rice is a great way to get consistently excellent results with minimal fuss. Or use this recipe on the stovetop! It's easy, promise.
Why we love this recipe
I'm a die-hard sushi fan. Making sushi is a delicate art, and most times I'm very happy to leave it to the experts. But that doesn't mean there isn't room to play. When you know how to make really good sushi rice at home, there's so much you can do in between visits to your favorite Japanese restaurant.
Instant Pot sushi rice is:
Just the right amounts fluffy, firm, sticky, and shiny
Delicately flavored with bright rice vinegar, sea salt, and a hint of sugar
An excellent use for the IP, which removes any guesswork and inconsistencies from the process
Super-flexible. See the serving suggestions below for our favorite ideas.
Plus, you can use the exact same recipe on the stovetop if you prefer.
What you'll need
Here's all you need to make Instant Pot sushi rice (or to make it on the stovetop).
Rice
Buying rice for sushi can be a little confusing because of the sloppy ways in which we sometimes use terms like "sticky rice" and "sushi rice." Sushi rice is the finished dish, not the raw rice. And sticky rice is a different thing entirely. But some people and even manufacturers in the west use the terms differently.
For traditional sushi, there's no substitute for the short-grain Japanese rice called uruchimai. It has a high moisture content and unique flavor.
That said, a lot of sushi in the U.S. is actually made with rice that's technically medium-grain but otherwise shares a lot of uruchimai's characteristics.
In the FAQ section below, I've answered as many rice-related questions as I can. Head down there before shopping if you like.
Additional ingredients
Rice vinegar. You'll need unseasoned rice vinegar for this recipe. Unlike seasoned vinegar, it doesn't contain any added sugar or salt. That way we get to control those elements on our own.
Salt. In this (and pretty much every) recipe, I use fine sea salt. If you're using Kosher salt, you'll need to add a little more. If you're using table salt, add less.
Sugar. Regular granulated sugar works fine here.
How to make Instant Pot sushi rice
Whether you're making Instant Pot sushi rice or cooking it on the stovetop, it's easy to get a good result once you get the hang of a few techniques. You can see the whole process in action in the video that accompanies this post.
Prepping the rice is key. You'll rinse the rice in quite a few changes of water until the water is clear, and then you'll soak it in fresh water and drain it. Rinsing removes excess starch, and soaking contributes to the texture of the finished dish.
The keys to cooking are to use the correct ratio of water to rice (1:1 for fresh, good-quality rice) and to resist tinkering with the pot during the cooking process. That's easy when making Instant Pot sushi rice, and also totally doable on the stovetop with a little patience and willpower.
As soon as the rice is cooked, it's ready to soak up the seasoning mixture.
To mix in the vinegar while cooling the rice, you'll use a gentle cut and fold method. You can see this happen in the video. Traditionally, you would use a shallow wooden bowl called a hangiri // handai // or sushi oke, a wooden paddle, and a fan. The wood absorbs excess moisture. But you can use any wide shallow bowl that you have along with a silicone spatula. Once the rice has cooled to body temperature, it's ready to use.
Expert tips and FAQs
Here are my best tips for buying rice and making Instant Pot sushi rice. If you have additional questions, feel free to ask them in the comments below, and I'll add the answers to this section over time.
What is the best rice to buy for sushi?

For sushi rice, buy the regular short-grain Japanese rice called uruchimai. Uruchimai means ordinary rice. The grains are plump and starchy, which helps the grains stick together gently when making sushi. There are several cultivars of uruchimai, but koshihikari is the most sought-after. Luckily it's become much easier to get this rice in the U.S., whether imported or domestically grown.

Some of the more-available, less-expensive brands of rice sold for sushi in the U.S., such as Botan Calrose and Nishiki, are actually medium-grain cultivars of Japonica rice. They're less-prized but will work just fine too, and they may well be what you've encountered in your everyday sushi restaurants.

Next, look for the term shinmai or new crop on the bag, or ask about it. This means that the rice is from the first crop of the season to be harvested, and it's supposed to be plumper and moister and have a fresher, sweeter taste than subsequent crops.

Important note: Don't confuse uruchimai rice with the other type of Japanese short-grain rice called mochigome // sweet rice // or glutinous rice. This is the rice used in sweet preparations like mochi and other Japanese sweets, as well as snacks like rice crackers. It's not a good choice for making sushi.

Where can I buy rice for sushi?

If you are lucky enough to have a local Japanese or Asian grocery, go there! You're likely to find several good options, along with someone to answer any questions you may have.

If not, you're more and more likely to be able to find at least one brand of short-grain rice for sushi-making in regular American supermarkets.

Or shop our Amazon affiliate links. Here are some good choices:

Super-premium brands
Shirakiku (Koshihikari // Japanese)
Tamanishiki (Koshihikari and Yumegokochi // Californian)
Tamaki Gold (Koshihikari // Californian)

Easily available brands
Botan Calrose (Calrose // Californian)
Nishiki (Very similar to Calrose // Californian)

Other good American brands
Lundberg
RiceSelect

Truth be told, I am happy to use ANY of these brands when making sushi, sushi bowls, and poke bowls at home. My sushi-making skills are not pro-level, so although we LOVE making and eating homemade sushi, I don't feel I need to use the best of the best rice. 🙂

What is kombu, and should I use it?

Ooh, you guys. Kombu is a type of seaweed that's super-high in umami. You've very likely benefitted from it many times without even knowing it, since it's one of the main ingredients in dashi, the stock used to make miso soup.

Placing a little piece of kombu into cooking water adds a subtle umami flavor that makes sushi all the better. It's optional when making sushi rice, but if you have some, I recommend using it.

Can you make this dish in advance?

You can make it up to about an hour in advance and keep it covered with a damp towel, but it's best used fresh if making sushi.

How do I store leftovers?

You can keep leftovers in a tightly sealed container in the fridge for up to a week. Use leftovers for bowls rather than sushi.
How to serve sushi rice
This recipe is delicately flavored and easy to love, so you can think of it as a versatile component of easy meals. Got raw or cooked vegetables and a little leftover protein? Serve it over a bowl of Instant Pot sushi rice and call it dinner.
(For the record, it would be more traditional to serve a rice bowl with the rice cooked this way but not seasoned with the vinegar mixture. But I love the additional flavors and usually dress it up regardless of its final destination.)
That said, here are some of our favorite ways to use it:
Bonus: Pair it with an app and a drink!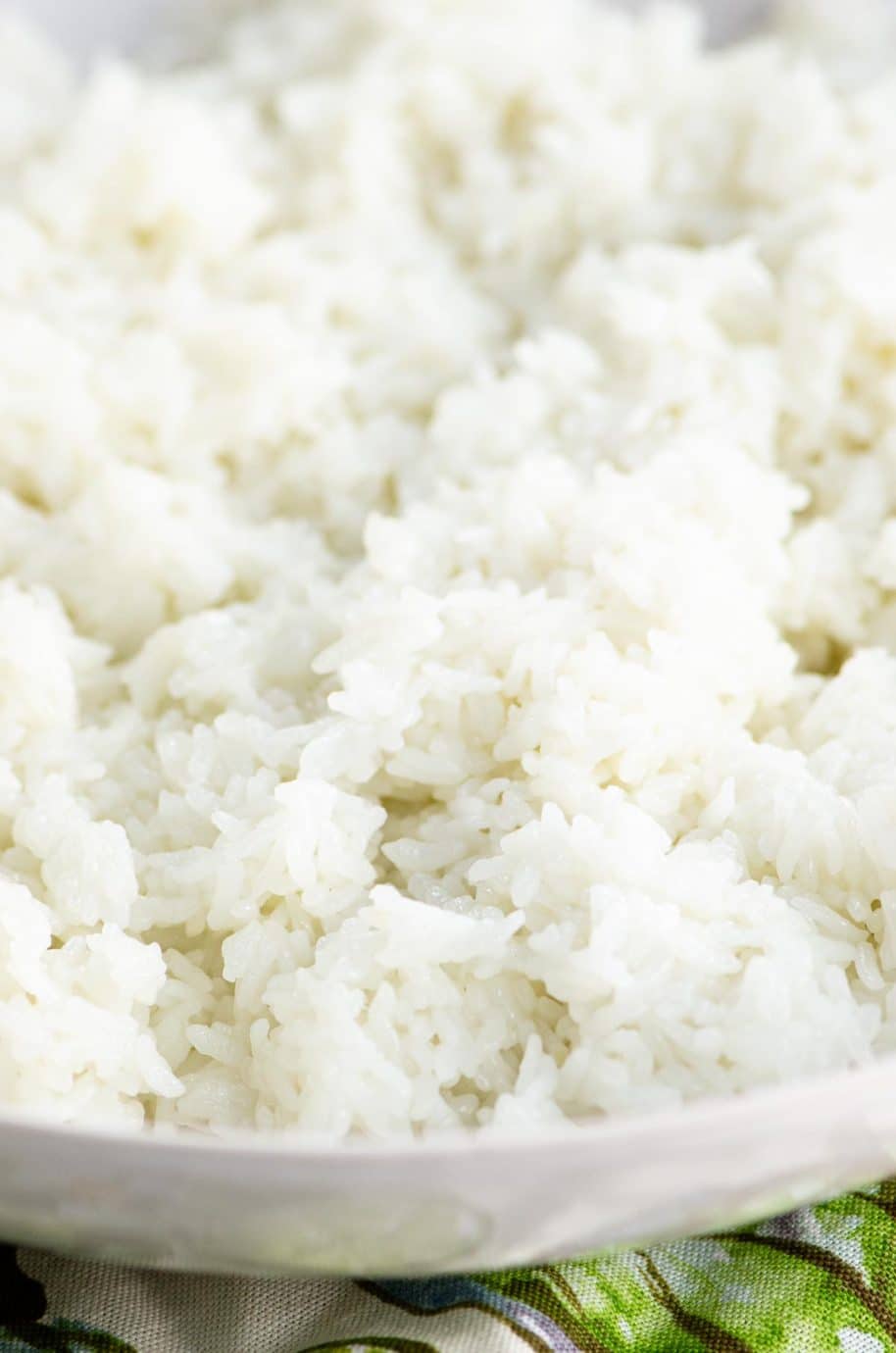 Yield: 4
Sushi Rice (Instant Pot or Stovetop)
Make great sushi rice in the Instant Pot or on the stovetop every time with our easy tips and tricks. Perfect for sushi, poke bowls, and more.
Total Time
1 hour
25 minutes
Ingredients
2 cups Japanese short-grain rice
2 cups water for stovetop cooking, 1 ½ cups water for Instant Pot (see note 6)
1 4-inch piece dried kombu, optional
¼ cup rice vinegar
4 teaspoons sugar
½ teaspoon fine sea salt
Instructions
Place rice into a large bowl and cover with several inches of water. The water will become very cloudy right way. Drain this first batch of water immediately.
Cover the rice with water again. Use your hand to swirl the rice around for a few seconds, and then drain it again. Repeat this process until the water remains clear when you jostle the rice.
Drain the water once more and cover the rice by several inches with clean water. Let the rice soak for 30 minutes, then drain well in a fine-mesh sieve. Now the rice is ready to cook.
Place the rice, kombu if using, and water into the Instant Pot or a medium-sized nonreactive pot with a heavy bottom and a tight-fitting lid.
To cook in the Instant Pot: Position the lid, set the vent to sealing position, and cook on manual, high pressure for 5 minutes. Let the pressure release naturally for 10 minutes before carefully releasing any remaining pressure and opening the lid.
To cook on the stovetop: Position the lid, then turn heat to high and bring to a boil. When the water boils, lower the heat to low or medium-low (depending on your burner) to maintain a gentle simmer. Simmer until the water is absorbed, about 12 minutes. Then remove pot from the heat, leaving the lid closed, and let the rice steam for an additional 10 minutes.
While the rice cooks, stir together the vinegar, sugar, and salt in a small pot or microwave-safe bowl. Heat just until salt and sugar have dissolved.
Remove the kombu. Gently spoon cooked rice into a wide, shallow bowl. Pour vinegar mixture over rice.
Using a rice paddle or silicone spatula, gently cut and fold the rice to mix in the vinegar and cool the rice. Refer to the notes section below for details and to the video for visual cues.
Let rice cool to body temperature (or all the way to room temperature, if you prefer) before using for sushi.
Notes
Please refer to the text of the post for suggestions on what type of rice to buy.
The hardest part of cooking sushi rice on the stovetop is not opening the lid too often. Wait until you see steam escaping from the pot to check whether the water is boiling. Once you've confirmed that the water was boiled, replace the lid and don't open it again until 10 to 12 minutes of simmering time have elapsed. If the water isn't fully absorbed at that point, replace the lid and simmer for a couple more minutes.
To cut and fold the rice, use the edge of the spatula to gently slice down from the surface of the rice until you reach the bowl. Then scoop up a bit of the rice, lift it, and fold it back onto the surface of the rice. (This is the same type of fold you'd use for batter.) Continue this process until the vinegar is fully incorporated and the rice has cooled substantially. You can fan the rice with a paper fan while cutting and folding if you like.
Make sushi rice up to an hour before you're ready to use it. Keep it covered with a damp towel.
Store leftovers in a tightly sealed container in the fridge for up to a week. Use them for bowls, rather than to make sushi.
Over time I have reduced the water ratio for the Instant Pot method. It used to call for the same two cups as the stovetop method, but I've found that we prefer the lower volume since virtually no steam escapes from the IP. If you've made it before and preferred it stickier, you can of course continue using two cups.
Nutrition Information:
Yield:
4
Serving Size:
1
Amount Per Serving:
Calories:

138
Total Fat:

1g
Saturated Fat:

0g
Trans Fat:

0g
Unsaturated Fat:

1g
Cholesterol:

0mg
Sodium:

417mg
Carbohydrates:

29g
Fiber:

0g
Sugar:

7g
Protein:

2g