The Levain Bakery chocolate chip cookie recipe — the "best chocolate chip cookie in New York" — is a closely held secret. But after a lot of sleuthing and hard work (okay, it's not THAT hard testing cookies), we're confident we've come very, very close. Here's how to make them.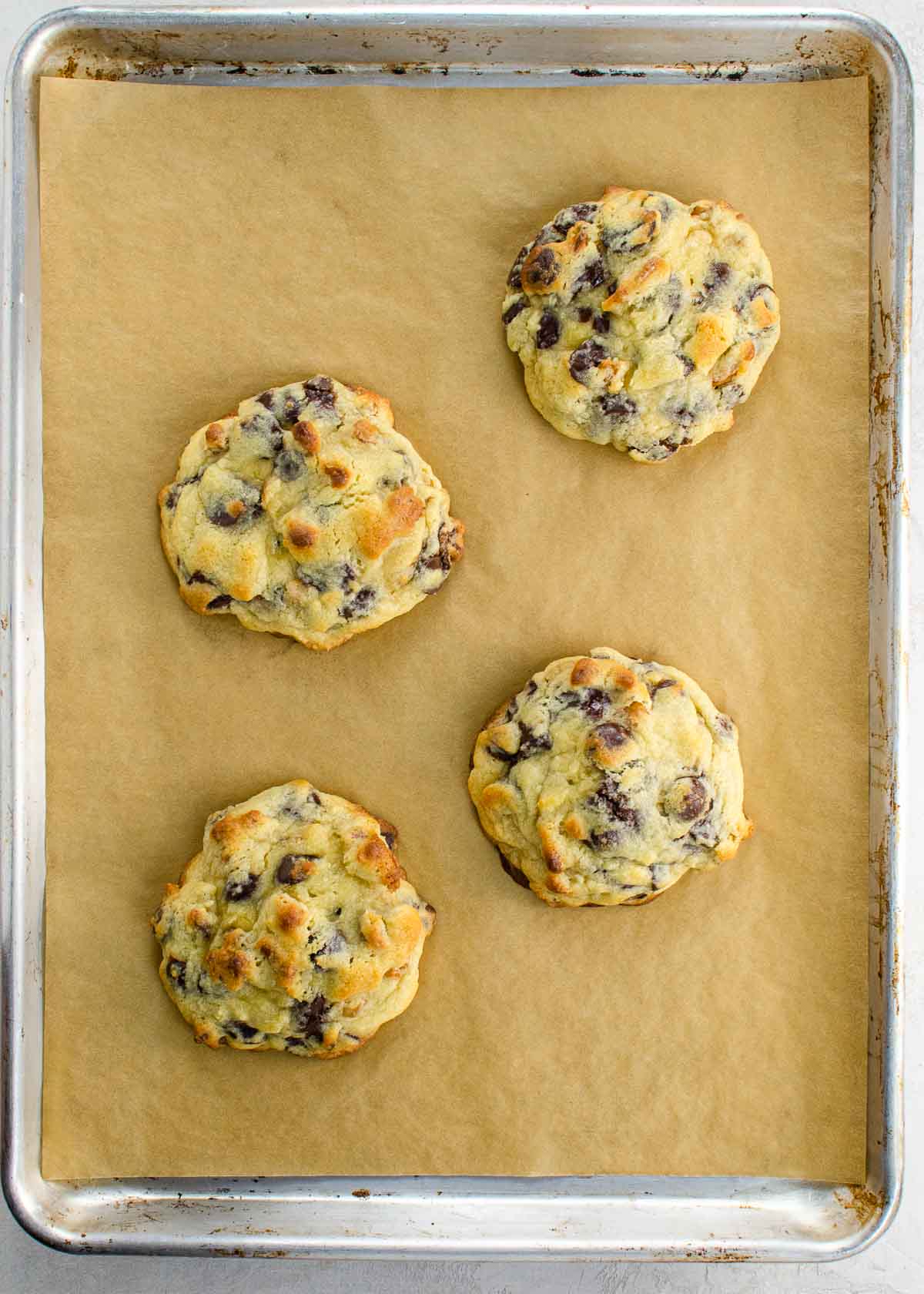 Why we love this recipe
You're probably here because you already love Levain Bakery's giant, crisp on the outside, tender and gooey on the inside chocolate chip cookies. Clocking in at six ounces apiece, four inches in diameter and more than an inch tall, it's almost like these cookies were created by a pair of Ironman triathletes. (Psst...They were.)
I'm just the right age to have been young and fresh-eyed in NYC, taking my high metabolism for granted, right when these beauties started taking off in the late 1990s. And I'm here to say: The good news you is, don't have to be an Ironman to eat them — though you wouldn't always know it from the look of the folks in line.
Our recipe delivers all the elements you expect from a Levain chocolate chip walnut cookie. It's:
As big as your palm, with the exact dimensions of the original. I took the same approach to this recipe that I do when buying replica Midcentury Modern furniture.
Lightly crisp on the outside
Tender and just the right amount gooey (which is pretty gooey!) on the inside
Generous and uncomplicated, like the chocolate chip cookie the world needs. Lots and lots of chocolate chips, walnuts, and unadulterated cookie dough, and very little else.
All that, and they're really easy to make.
What you'll need
Here's a glance at the ingredients you'll need to make this recipe.
Cake flour has a lower protein content than all-purpose flour and contributes to a tender, almost cakelike center in these cookies. Find it in many grocery stores or grab it online. Note: At least in the grocery version of their cookies, Levain does not list cake flour in the ingredients. Instead they use the kind of all-purpose flour that contains diastatic malted barley, a dough conditioner that contributes to tenderness. Using some cake flour at home is the easiest way to replicate the tenderness of the original.
Levain uses semi-sweet chocolate chips, so use those to hew as closely as possible to the original. I prefer bittersweet chips when making these (and basically all) cookies, but have listed semi-sweet in the recipe anyway.
The walnuts should be very roughly chopped. If you can find a brand that sells "halves and pieces," this is a great bet. Otherwise, buy them in halves or wholes and give them a rough chop yourself.
How to make them
Here's what you'll do to make the best cookies in New York, right in your own kitchen. You can see all the steps in action in the video that accompanies this post, and get the details in the recipe card below.
Starting with cold butter is one of the keys to these cookies. Mix the butter and the sugars together just until it looks like a crumble topping you'd use for a fruit crisp. This is when you'll add the eggs.
Mix in the eggs just until they're incorporated and the dough is relatively smooth.
Add the sifted dry ingredients all at once and mix until everything is just shy of combined. I like to quit while I'm ahead and do the last bit of mixing by hand with a wooden spoon or a sturdy silicone spatula. Mix in the chocolate chips and walnuts. The dough will be very stiff at this stage, so you'll really earn your cookie.
To form each cookie, gather six ounces of dough into a rough ball without packing it together. It's good to weigh them if you have a kitchen scale. If you've weighed your ingredients, you should get exactly nine cookies. Let them chill in the fridge for 30 minutes and then bake them four or five at a time on a parchment-lined baking sheet. The recipe card below has all the baking details.
Expert tips and FAQs
These tips and tricks are the keys to the cookie kingdom.
Why use cake flour?

Cake flour is made from "soft" wheat with a low protein content — usually 7 to 9 percent (vs. the 10 to 12 that you'll find in all-purpose flour). It's also more finely milled than all-purpose flour. Using some cake flour in these cookies helps them retain the light tenderness you expect to find inside.

You will find claims on the internet about how to make a substitute for cake flour using all-purpose flour and cornstarch. I have tried this in cake recipes and not found it to be the least bit convincing. Instead, if you can't find cake flour locally, buy it here.

Why start with cold butter?

This is an unusual technique for cookie mixing, but it works. Levain Bakery chocolate chip cookies have an almost sconelike shape and exterior texture, so we've borrowed this trick from scone making 101. Starting with cold butter means that it doesn't get fully incorporated into the mixture, but rather breaks into tiny pieces. When they hit the heat of a high oven, they release tiny pockets of steam inside the cookie while helping the outside to crisp.

What does the 30 minutes of chilling do?

Levain Bakery makes enormous batches of cookie dough, shapes the cookies, and lets them rest in the fridge. Perhaps this started as a logistical necessity, but it contributes a lot to the character of these cookies.

First and foremost, chilling prevents spread. By solidifying the butter, it produces cookies that retain their shape while baking.

Next, these cookies are baked at a very high temperature in the cookie world (375°F / 190°C), for a long time (18 minutes). Chilling the dough balls on the baking sheet also chills the baking sheet, and this prevents the bottoms of the cookies from browning too much while baking. They end up just right on the bottom.

Finally, even a tiny bit of "aging" contributes to a crisper, better browned exterior and a more developed flavor.

Learn lots more fun facts about chilling cookie dough here.
Isn't 375°F high for cookies?

It sure is. But it's the right temperature to achieve the mix of lightly browned exterior and gooey interior that you expect from Levain Bakery cookies. I actually tested as high as 400°F, but 375°F produces the best version of the best cookies.

How long do Levain cookies keep?

It's a good idea to let them rest for at least 15 to 30 minutes after baking — longer if you can stand it. Here are your options for keeping them longer than it takes to eat one.

1. Once completely cool, keep them tightly sealed at room temperature for up to a week. // 2. Freeze baked cookies (whole or cut into pieces) and rewarm in a 350°F oven until heated through. // 3. Freeze raw dough balls. Thaw in the refrigerator before baking.

More classic cookies
Yield: 9
Levain Bakery Chocolate Chip Cookie Recipe (Reimagined)
These giant, crisp on the outside, tender and gooey on the inside cookies are exactly what you remember about Levain Bakery chocolate chip cookies.
Additional Time
30 minutes
Ingredients
2 cups (240 grams) all-purpose flour
1 cup (120 grams) cake flour
2 teaspoons baking powder
½ teaspoon salt
16 tablespoons (224 grams) cold unsalted butter, cubed
¾ cup (150 grams) granulated sugar
¾ cup lightly packed (150 grams) light brown sugar
2 large eggs
2 cups (225 grams) very roughly chopped walnuts
2 cups (350 grams) semi-sweet chocolate chips
Instructions
Sift together the flours, baking powder, and salt into a medium bowl.
In a large bowl or the bowl of a stand mixer fitted with the paddle, beat the butter with the sugars just until it looks like a crumble topping. Refer to the step-by-step photos and the video for visual cues.
Mix in the eggs just until they're combined and the dough begins to look smooth.
Add the dry ingredients all at once. Mix on low just until they're incorporated. I like to do the last bit of mixing by hand with a wooden spoon or very sturdy silicone spatula, to be sure there's no unmixed dough on the bottom, without overmixing the rest. Dough will be very stiff at this stage.
Mix in the walnuts and chocolate chips to distribute evenly. I like to do this part by hand as well, but you can use the paddle on a stand mixer if you like. It will take a bit of elbow grease either way.
Divide the dough into nine 6-ounce (170-gram) balls. Use your hands to shape them very lightly. The final result should be rough and rustic, not packed and spherical. Line two sturdy baking sheets with parchment and arrange four balls on one sheet, five on the other, leaving plenty of room in between.
Place the cookie sheets into the fridge for 30 minutes. It's important to chill the sheets as well as the dough balls.
Preheat oven to 375°F (190°C) with a rack in the center.
Transfer one cookie sheet from the fridge to the center oven rack. (You'll bake the sheets one at a time.) Bake until cookies are lightly browned on top and underneath and still very soft inside, about 18 minutes.
Let cool for at least 15 to 30 minutes before serving, right on the pan — longer if you can. This helps the cookies set perfectly.
Notes
I recommend using a kitchen scale to weigh the ingredients. If you're measuring by volume, be sure to employ the spoon and level method for the flour, otherwise you'll end up using too much.
Walnuts should be very roughly chopped, not too small. If you can find a brand that sells "halves and pieces," that's perfect. Otherwise buy halves or wholes and roughly chop them yourself.
Levain Bakery uses semi-sweet chocolate chips, so that's what I've indicated in the recipe. In real life I prefer them with bittersweet chips. Choose according to your own preference, since either one will work nicely.
If your fridge can't accommodate cookie sheets, don't panic. You could chill them separately in the freezer for a few minutes. Or, if that's not possible, you can invert a second rimmed cookie sheet underneath the one you're using to bake, to create a bit of distance between the main baking sheet and the hot oven rack. The parchment also helps buffer the cookies from the direct heat.
In my oven, these cookies take 18 minutes to bake. As always, your mileage may vary. You're looking for a lightly browned exterior and an interior that looks visibly soft from above but not totally raw. It's best to err on the side of underbaking as you get a sense for how your own oven handles these cookies. You can always tack on a few additional minutes next time.
Once cool, store leftovers tightly sealed at room temperature for up to a week. // OR freeze baked cookies and rewarm in a 350°F oven. // OR freeze raw cookie dough balls. Thaw in refrigerator before baking.
Nutrition Information:
Yield:
9
Serving Size:
1
Amount Per Serving:
Calories:

440
Total Fat:

28g
Saturated Fat:

16g
Trans Fat:

1g
Unsaturated Fat:

10g
Cholesterol:

97mg
Sodium:

435mg
Carbohydrates:

43g
Fiber:

2g
Sugar:

9g
Protein:

7g