Sour cherry crisp is an easy and beautiful way to let this fleeting seasonal ingredient shine, without overwhelming it. Make-ahead friendly and ready in an hour.
Why we love this recipe
There's nothing better than a big, bubbly plate of sour cherry crisp to share with friends. This recipe:
Makes the most of fleeting seasonal produce, enhancing and gently sweetening sour cherries' natural goodness without overwhelming it
Is one of the breeziest desserts around, perfect for a low-key introduction to summer
Can be made with frozen sour cherries, which is great since the season lasts mere days
The only hard part is pitting the cherries. In general I'm not a fan of single-purpose kitchen tools, but a cherry pitter is an exception. It makes things SO much easier (and you can use it for olives, too).
What you'll need
Here's a glance at the ingredients you'll need to make this recipe. First, you'll make the simple filling.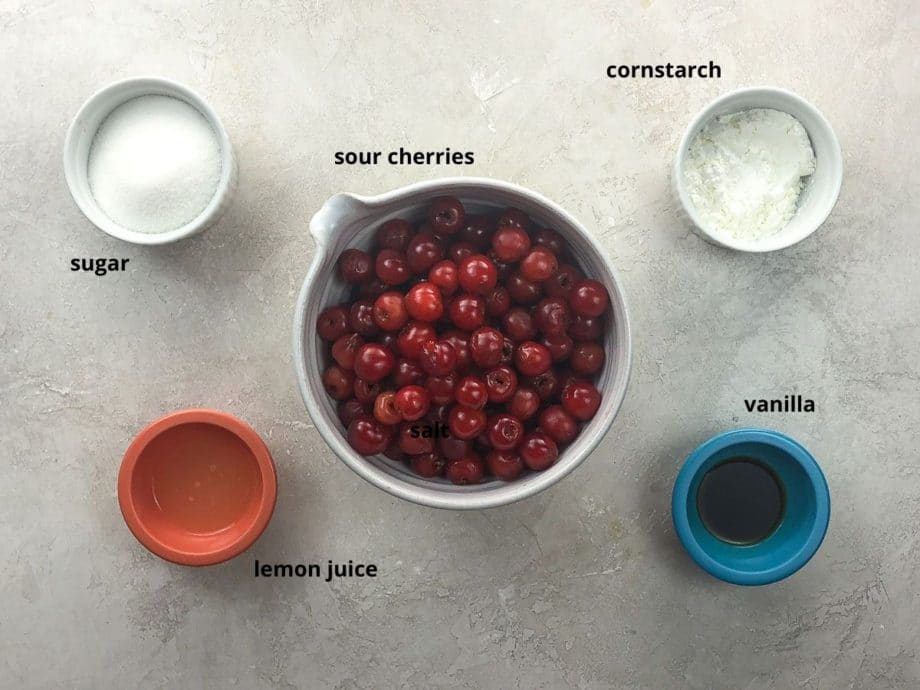 Sour cherries, also called tart cherries, are delicate, thin-skinned, and bright red. As the name suggests, they're very sour, and they have a floral briskness that really shines when lightly sweetened. Please refer to the FAQ section below for more information.
A little bit of vanilla amplifies the cherries' flavor, and a splash of lemon juice adds a complexity to their brightness.
Then you'll make the topping. This is our versatile crumble topping that we use for many a fruit crisp.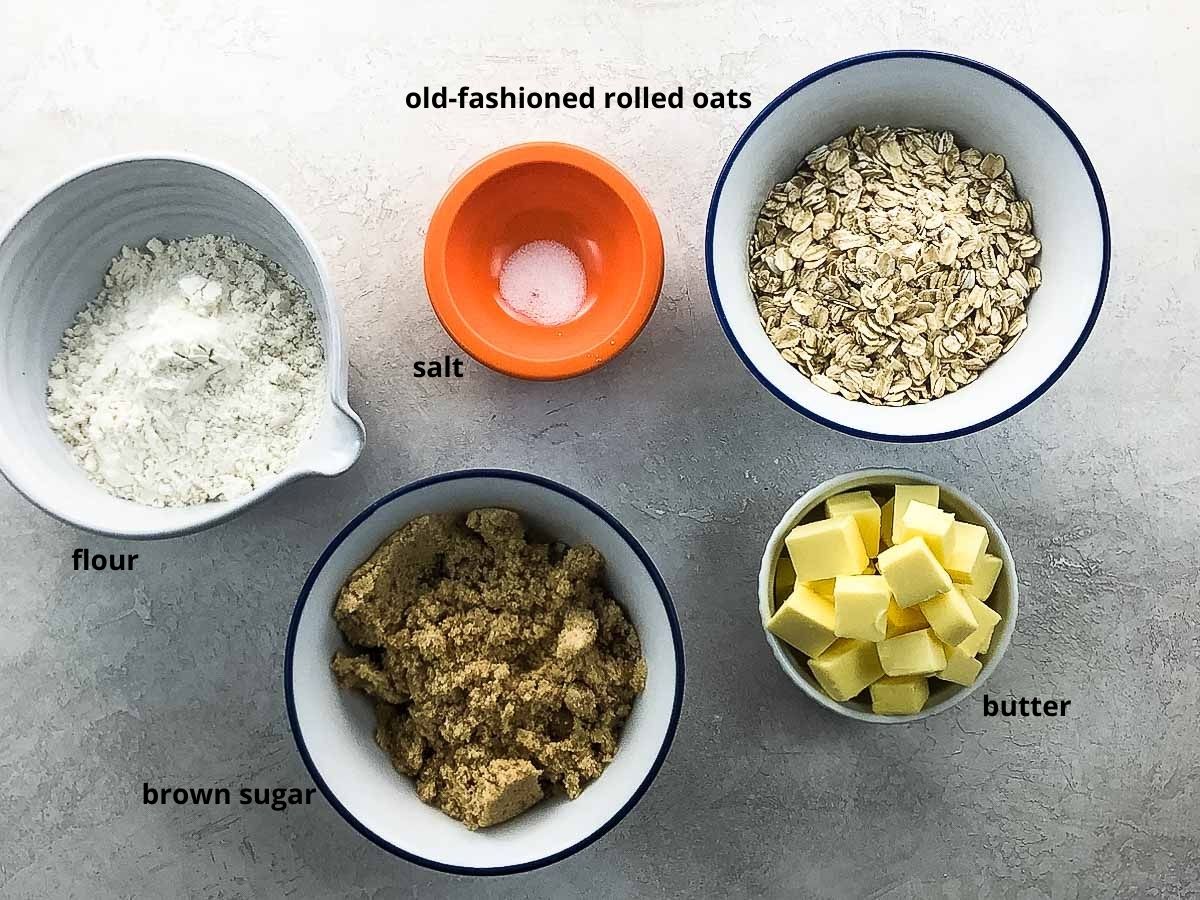 Old-fashioned rolled oats give a bit of heft and chew to the topping. I prefer these, but you can use quick rolled oats if that's what you've got.
Good old light brown sugar adds a caramel sweetness. You can experiment with other brown sugars if you like.
All-purpose flour is my go-to. To make this recipe gluten-free, you can substitute a 1:1 GF flour blend (and make sure the oats are also certified GF).
How to make it
Here's what you'll do to make a beautiful sour cherry crisp. You can see the steps in action in the video that accompanies this post, and get all the details in the recipe card below.
Place the pitted cherries, sugar, and cornstarch into a mixing bowl and gently stir to coat. Mix in the vanilla and lemon juice.
Pour filling into a deep-dish pie plate and set it over a rimmed baking sheet to catch drips.
To make the topping, stir together the dry ingredients and then pinch in the butter with your fingers until it comes together into a crumbly topping with no loose bits of flour or oats.
Arrange the topping evenly over the filling. Bake in the center of a 375°F oven for 40 minutes, until browned and bubbly. You can cover it loosely with foil partway through cooking, once the topping reaches your preferred brownness.
Expert tips and FAQs
What variety are sour cherries?

There are several varieties that fall into the sour category, including Montmorency and Morello. You can use them interchangeably in this recipe.

Where do you get sour cherries?

We get them once a year by picking as many as we can at Battleview Orchards and freezing them for use throughout the year. You can also buy morello cherries in a jar. If working with jarred cherries, drain thoroughly before using and weigh after draining.

Can I make this recipe in advance? What about leftovers?

Yes, you can make it the night before or early in the day and leave to cool at room temperature.

If you have leftovers, you can cover the pie plate and leave it at room temperature for 24 hours. After that, store it in the fridge for up to a week. If you want to recrisp the topping before serving, pop it into the toaster oven for a few minutes.

More favorite sour cherry recipes
Yield: 8
Sour Cherry Crisp
This unfussy, fruit-packed sour cherry crisp is a lovely way to showcase sour cherries
Ingredients
For the filling
2 pounds (908 grams) pitted sour cherries
½ cup (100 grams) sugar
¼ cup (28 grams) cornstarch
2 teaspoons (10 ml) vanilla extract
1 tablespoon (15 ml) freshly squeezed lemon juice
For the topping
¾ cup (60 grams) rolled oats
¾ cup (90 grams) all-purpose flour
⅔ cup (142 grams) light muscovado sugar or light brown sugar
Pinch of salt
8 tablespoons (112 grams) butter, diced
Instructions
Preheat the oven to 375°F with a rack in the center.
In a large bowl, gently mix together the sour cherries, sugar, cornstarch, vanilla extract, and lemon juice until well combined.
Set a deep-dish pie plate on a heavy, rimmed baking sheet and pour in the filling.
In a medium bowl, combine the oats, flour, brown sugar, and salt. Stir together thoroughly. Add the diced butter and, using your fingers, pinch the ingredients together until they form a cohesive, crumbly topping and no lumps of butter or loose bits of flour or sugar are left.
Crumble the topping evenly over the filling.
Bake for 40 minutes, until the filling is bubbly. Around the 20-minute mark, cover lightly with foil to prevent the topping from browning too much.
Serve alone or topped with vanilla ice cream.
Notes
To make this recipe gluten-free, use certified gluten-free oats and a gluten-free flour blend such as this one.
Protip: Fruit crisps make an acceptable breakfast once in a while. 🙂 Serve with alone or topped with vanilla ice cream for dessert, or with Greek yogurt as an excuse to eat dessert for breakfast or brunch.
Sour cherry crisp is equally great warm or at room temperature.
Storing and reheating leftovers: Cover and leave at room temperature for 24 hours. After that, store it in the fridge for up to a week. If you want to recrisp the topping before serving, pop it into the toaster oven for a few minutes.
If you like, you can prepare the crisp in advance, wrap well in plastic wrap and foil, and freeze the whole thing for up to a year. You can bake straight from frozen, adding some extra time and covering to prevent over-browning.
Nutrition Information:
Amount Per Serving:
Calories:

322
Total Fat:

11.8g
Carbohydrates:

51.4g
Fiber:

2.9g
Protein:

3.4g