This easy rice pilaf recipe takes things to the next level with basmati rice. We hope you'll add this classic dish to your repertoire. It's a perfect side dish or bed for a wide variety of meals. We love it with seared scallops.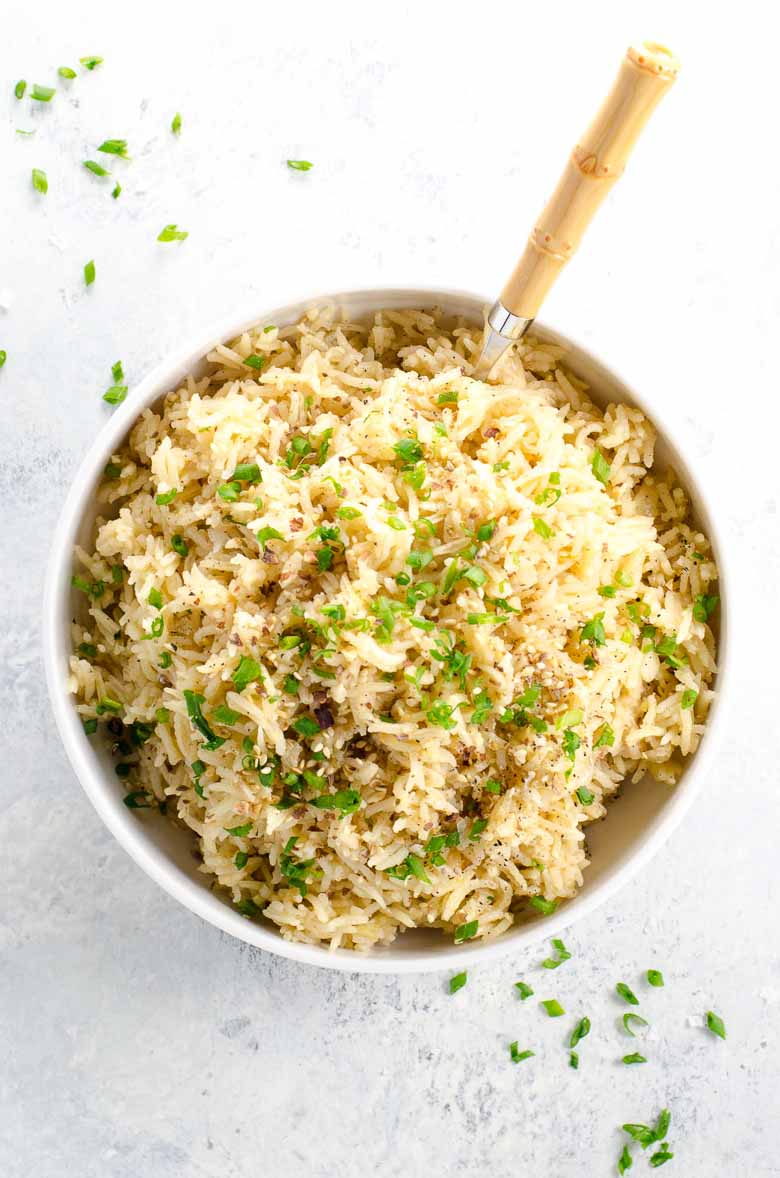 Tip
Basmati rice is just as easy to prepare as plain white rice, but its flavor and aroma elevate this simple dish to next-level status.
The case for rice pilaf
Some recipes are so basic, so versatile, so good that every cook should know them. There's that pesky "should," I know. But I feel pretty strongly about this. Rice pilaf is one of those recipes. And basmati rice pilaf is pilaf's best version of itself.
Rice pilaf woke up on the right side of the bed this morning. And if you're new to this side dish and ready to learn a simple, easy recipe, then so did you.
Psst: speaking of beds, maybe you'll try this as a bed for seared scallops with chorizo. Just sayin.
Basmati rice pilaf ingredients
You only need a few basic ingredients to make this recipe. As always, the fewer the ingredients, the more important their quality.
You'll need:
Basmati rice, rinsed in a colander under running water until the runoff is clear. The water will start out a milky color and, after a minute or two, will turn clear. That's how you'll know you've rinsed well.
Onion, diced nice and small
Plenty of minced fresh garlic
Good broth (either veggie or chicken)
Salt and pepper
How to make rice pilaf
This recipe couldn't be easier to make. Here's what you'll do. You can see all the steps in action in the video that accompanies this post.
Find a wide, shallow pan with a lid.
Rinse your basmati rice until the water runs clear.
Melt butter in the skillet
Sautee the onions until translucent and a tiny bit browned
Add the garlic and cook for a minute
Stir in the rice and cook for two minutes to toast
Add broth and bring to a boil
Cover the pan, turn down the heat, and simmer for 15-20 minutes.
Off the heat, place a clean kitchen towel between the pan and the lid, and leave it to absorb any extra moisture for 5 to 10 minutes.
Taste and add salt and pepper.
Protips for making the best rice pilaf
A few keys to a good pilaf: flavor, flavor, flavor. You don't want to overwhelm, but you definitely don't want to bore.
Use good butter (I love Kerrygold salted butter like I love my children) and good stock (I almost never make my own but have a couple of boxed favorites such as this one for veg and this one for chicken).
Brown the onions a little like the recipe suggests to develop the flavor.
Basmati rice will speak for itself in the flavor department.
And don't skimp on the salt and pepper.
I'm feeling a little bossy today I guess. Sorry not sorry. ?
What to serve with rice pilaf
This side dish is so versatile that there's almost no limit to what you could serve it with. We especially love:
Yield: Serves 6
Basmati Rice Pilaf
This is a best-self version of a classic recipe with plenty of flavor and zero complicating factors. It's a versatile side dish that I hope you'll build into your repertoire.
Ingredients
2 tablespoons (28 grams) butter
1 medium yellow onion, diced small
6 garlic cloves, chopped
1 cup (180 grams) basmati rice
2 ½ cups (590 ml) chicken or vegetable stock (see note 1)
Fine sea salt and freshly ground pepper (see instructions)
To garnish (optional)
Minced chives
Chopped almonds
Instructions
In a wide pan with a lid (like this one, this one, or this one), melt butter over medium-high heat. Add onion and cook, stirring occasionally, until translucent and just starting to brown, about five minutes. While onion cooks, rinse rice in a fine-mesh sieve until the water runs clear and shake out any excess water.
Add garlic to pan and cook, stirring, until very fragrant, about a minute. Add rice and stir to coat with butter, then cook, stirring once or twice, for two minutes. Pour in stock and give it all a good stir. Bring to a boil over high heat. Then cover pan, lower heat to maintain a gentle simmer, and cook until broth is absorbed, 15 to 20 minutes.
Off the heat, place a clean kitchen towel between the pan and the lid to absorb excess steam and let pilaf rest for 5 to 10 minutes. Sprinkle with chives and almonds if using and serve.
Notes
Some American brands of basmati rice do better with a little less liquid. If your rice is very thin or the package instructions indicate less than two cups of water per cup of rice, you may want to scale back to 2 cups of stock.
If you use salted butter and stock, you may not need additional salt. Just taste and adjust before serving.
Nutrition Information:
Amount Per Serving:
Calories:

176
Total Fat:

6.4g
Carbohydrates:

26.4g
Fiber:

1.4g
Protein:

3.3g