A great homemade poke bowl is easy enough to put together for weeknight dinner and GORGEOUS enough to serve guests. My favorite poke bowl features both savory ahi tuna and spicy salmon, but you can customize it however you like.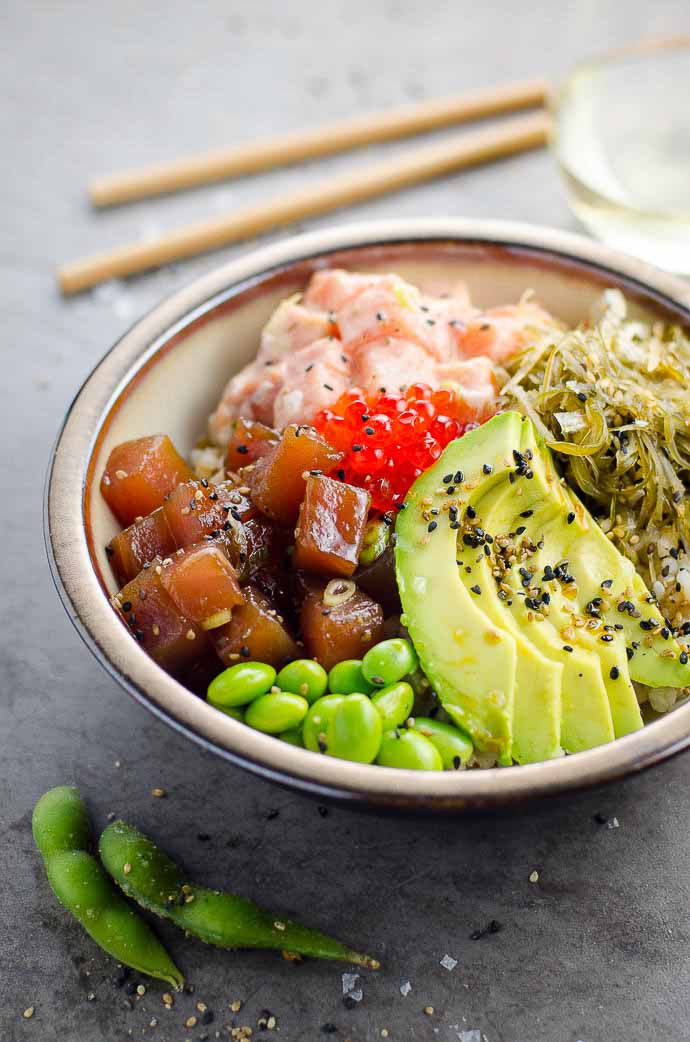 Why we love this recipe
As an umami lover, I've been delighted by the rise in popularity of the poke bowl on the mainland over the past decade or so. Poke delivers many of the same flavor payoffs as sushi, but with a nice, chill vibe. Here in coastal New Jersey, poke takeout has popped up at the beach in a big way.
This tuna poke bowl recipe:
Is quick and easy to make at home
Combines the best of ahi poke and spicy salmon poke
Has two separate, super-easy sauces for maximum flavor with minimal fuss
Is highly customizable
What you'll need
Here's what you'll need to make these tuna bowls. Don't be put off by the fairly long list of ingredients. Most are pantry staples that you'll use over and over once you have them in the house.
For the tuna
With ahi poke, just a few ingredients come together to make something sublime.
Tuna: Ahi tuna is also called yellowfin. (In Hawaii, ahi also includes bigeye tuna.) Ahi is pretty widely available. Refer to the FAQ section below to learn more about how to buy fish that you'll consume raw.
Toasted sesame oil: A little bit of toasted sesame oil adds a deep, gorgeous flavor to the tuna. You can use regular toasted sesame oil or the kind with chili, depending on what spice level you're going for.
For the spicy salmon
Our spicy salmon has just the right balance of spice, savoriness, and creaminess.
Salmon. Use the best salmon you can get your hands on. Please refer to the FAQ section below to learn more about how to buy fish that you'll consume raw.
Mayo. You can use regular mayo, but umami-packed Japanese-style Kewpie mayo makes a big difference. If you have trouble finding it locally, you can order it on Amazon.
Soy sauce. I like to use lower-sodium tamari, which has plenty of flavor with a little less salt. It's also gluten-free.
Sriracha. You get to control the spice level by adding as much or as little sriracha as you like.
To assemble the bowls
There's a LOT of flexibility when putting together a poke bowl. Here are some of my favorite ingredients to add.
Sushi rice. Here's everything you need to know to make it great. I like to season rice for a poke bowl the same way I would for sushi, since the vinegar cuts beautifully through the richness of the fish. But you can cook the rice according to this method and skip the seasoning if you prefer. Or substitute brown rice or quinoa, or even cauliflower rice if that's your thing.
Seaweed salad. Prepared seaweed salad is a great addition to a tuna bowl. Pick some up at the grocery store and you're all set.
Veggies. Ripe, creamy avocado is a must in my book. Diced cucumber is a classic, too. But don't stop there unless you want to! Mango? Radish? Japanese pickles? Yes, yes, yes.
Garnishes. Black and white sesame seeds, toasted nori, and fish roe are our favorites.
How to make it
Here's all you need to do to make a fabulous ahi and spicy salmon poke bowl.
Mix up the tuna.
Mix up the spicy salmon.
Make a base layer of rice, and then add your other ingredients.
Garnish and serve! You can make the bowls up for everyone or let people assemble their own.
Expert tips and FAQs
What is poke?

Poke originates in Hawaii and means, essentially, cut fresh fish. The flavors in most poke bowls draw heavily from Japan. Pronounce it (POH-keh).

Where should I buy fish for poke bowls?

I buy the same kind of fish for poke bowls that I'd buy to make sushi at home.

For me, sometimes that means dipping into the deep freezer at Whole Foods and buying small portions of medium-obscenely expensive sashimi-quality yellowfin tuna and salmon. Sometimes it means ordering from Honolulu Fish Company.

There's no such thing as sashimi-quality or sushi-grade as far as any official agency is concerned, but these terms mean that the purveyor feels the sourcing and handling of that fish makes it safe to eat raw. Often this fish has been flash-frozen and kept at a deep freeze.

There are lots of ways to buy good fish, though. Just employ the fishmonger version of one of my top farmers' market tips: buy from someone you trust and ask questions.

What to serve with poke
A poke bowl is enough on its own (just like you!). But if you want to serve it alongside some complementary dishes, think along the same lines as you would for sushi. Some of our favorites are:
Yield: Serves 4
Ahi Tuna Poke Bowls with Spicy Salmon
Poke bowls are as easy as they are gorgeous. You can be very flexible with the ingredients, adding or subtracting to suit your mood and the contents of your fridge.
Additional Time
10 minutes
Ingredients
FOR THE RICE
FOR THE SPICY TUNA
½ pound sushi-grade yellowfin tuna
1 tablespoon thinly sliced scallion (white and green parts)
1 teaspoon very thinly sliced shallot
2 teaspoons reduced-sodium tamari
1 teaspoon toasted sesame oil
Pinch of chili flakes
FOR THE SPICY SALMON
½ pound sushi-grade salmon
2 teaspoons mayonnaise
Sriracha to taste -- start with ¼ teaspoon
¼ teaspoon reduced-sodium tamari
1 teaspoon finely minced shallot
1 tablespoon sliced scallions
FOR THE BOWLS
Sliced avocado
Prepared seaweed salad
Fish roe
Shelled edamame
Toasted nori
Instructions
To make the tuna poke, cut tuna into bite-sized cubes. I like them on the smaller side — maybe ½-inch dice — but it's totally up to you. Place cubes in a small mixing bowl and add scallion, shallot, tamari, sesame oil and chili flakes. Toss gently and set aside.
To make the salmon poke, cut salmon into cubes to match the size of the tuna and place in a small mixing bowl. In another small bowl, stir together the mayonnaise, sriracha and tamari. Spoon sauce over salmon and toss gently to coat. Stir in shallot and scallion and set aside.
To assemble the bowls, place some rice in the bottom of each serving bowl. Arrange portions of tuna, salmon, and whatever additional ingredients you like. Pictured here are avocado, seaweed salad that I bought already prepared, some simple shelled edamame, a little bit of salmon roe, and a nice sprinkle of gomasio, freshly ground black pepper, and chili toasted sesame oil.
Notes
Poke bowls are great way to use leftover sushi rice, meaning you can make the rice in advance. If you're not into white rice, these bowls are super with brown rice, quinoa, or even cauliflower rice.
Make the rest of the elements right before serving, and try not to make so much that you have leftovers. Poke is all about freshness.
Nutrition Information:
Amount Per Serving:
Calories:

517
Total Fat:

14.4g
Carbohydrates:

61.1g
Fiber:

6.3g
Protein:

36.2g