Raspberry whipped cream makes a terrific, not-too-sweet frosting for a wide variety of cakes and cupcakes, but it's also a terrific topping for waffles, mixed berries, or anywhere else you'd like to use a whipped cream that's a little extra special.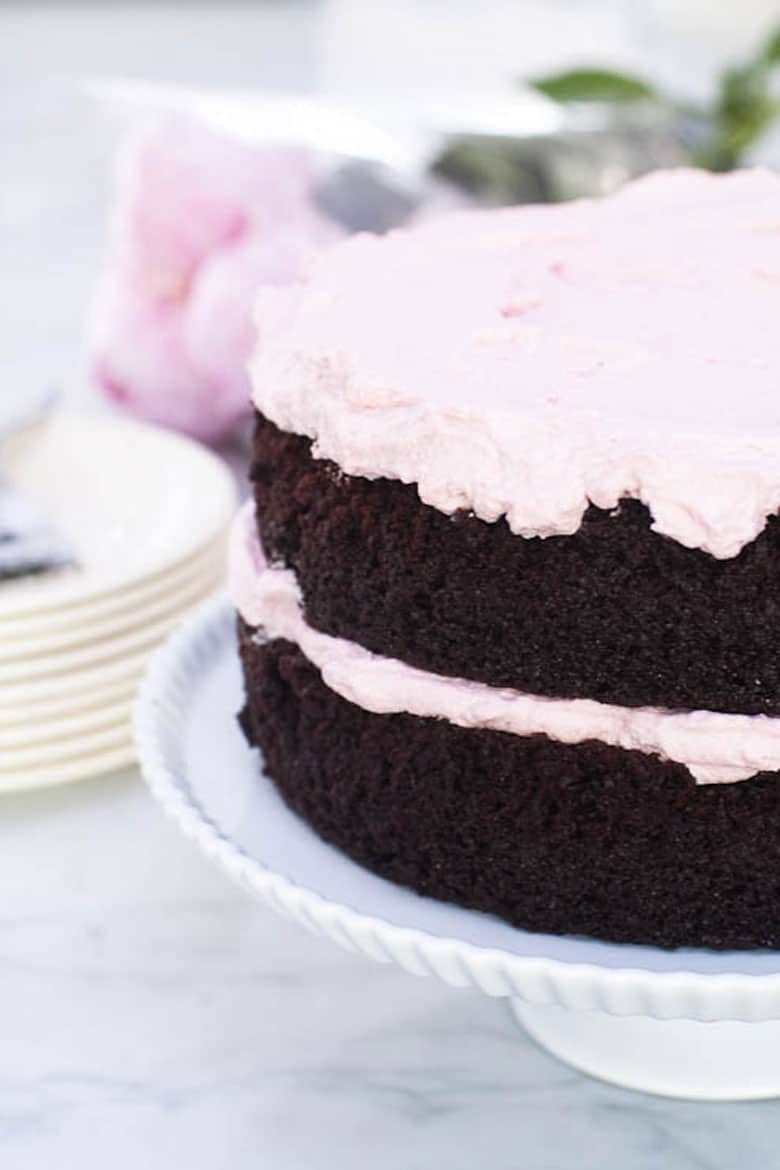 Why we love this recipe
Every year for her birthday, my younger daughter Celia requests The Best Chocolate Cake with this raspberry whipped cream for frosting. We're pretty sure it's not just because that's pretty much the biggest cake any of us have ever seen. This light pink, not-too-sweet whipped cream is also great on:
Waffles
Pancakes
Mixed berries
And so much more
What you'll need
It's amazing how little you need to make this borderline transcendent recipe.
Fresh or frozen raspberries are fine. I almost always use frozen since they tend to be both less expensive and picked at the peak of ripeness.
Use heavy cream, not whipping cream. Heavy cream has a slightly higher fat content, and it will hold its whipped consistency longer and better. This is important when frosting a cake.
How to make it
Here's what you need to do to make raspberry whipped cream. You can see all the steps in action in the video that accompanies this post, and get all the details in the recipe card below.
Simmer the raspberries and half the sugar until the raspberries have broken down and the mixture has thickened.
Strain it through a fine-mesh sieve, leaving the seeds behind and pushing through as much of the raspberry puree as you can. This will require a little persistence, and you won't get it all, but do your best.
Whip the cream to the soft-peak stage. Add the remaining sugar and whip to incorporate.
Whip in the raspberry puree until just incorporated. Do the last bit of mixing by hand, being careful not to overdo it.
Expert tips and FAQs
What type of cream should I use?

Use heavy cream. It has a slightly higher fat content than whipping cream and will hold its shape better as frosting. Despite its lack of stabilizers, this recipe holds its own beautifully for days.

Is it okay to use frozen raspberries?

It's absolutely okay, and I prefer it since (1) fresh raspberries are often more expensive, (2) frozen fruit is easy to keep on hand, and (3) frozen berries are usually picked in peak season at the perfect ripeness.

You don't need to defrost the berries before using.

How long does raspberry whipped cream keep?

If you have the option, whipped cream is always best made as close to serving time as possible. That said, this recipe will hold for days. The chocolate cake that we usually frost with it is large, so sometimes there are leftovers in the fridge for several days. The frosting holds up just fine for that time.

If you haven't frosted a cake with it, store leftovers tightly sealed in a nice, cold fridge for up to three or four days.

More favorite cake and frosting combos
Our family tends to return to the same beloved frosted cakes again and again. We also adore:
Yield: 16
Raspberry Whipped Cream
Use this light pink, not-too-sweet raspberry whipped cream to frost The Best Chocolate Cake, or simply use it as raspberry whipped cream. It's great on waffles or pancakes, over mixed berries — you name it.
Additional Time
20 minutes
Ingredients
10 ounces (284 grams) raspberries, fresh or frozen
⅔ cup (133 grams) granulated sugar, divided
2 cups (480 ml) heavy cream
Instructions
In a small pot, combine the raspberries and ⅓ cup sugar. Cook over medium-high heat, stirring occasionally, until the raspberries have broken down most of the way and the syrup has thickened slightly, about 10 minutes.
Push the syrup through a fine-mesh strainer to remove seeds. You'll inevitably lose a fair amount of the beautiful red pulp to a fine-mesh strainer, but keep pushing and stirring as long as you can stand it to extract as much as possible. You can do this step up to a few days in advance and keep the strained syrup in the fridge. Either way, be sure to let the syrup cool completely before proceeding. (You can set the bowl with the syrup over a bowl of ice to speed the process if you like.)
As close to serving time as feasible, beat the heavy cream just shy of the soft peak stage with an electric mixer. Add the remaining ⅓ cup sugar and beat to incorporate. Pour in the raspberry syrup and beat just a touch more. You can finish the mixing by hand to make sure it's well-mixed without overbeating.
Notes
You can use fresh or frozen raspberries. I usually use the latter. You don't need to defrost them first.
Use heavy cream, not whipping cream. The slight extra fat content helps create a more stable whipped cream that will last for several days on a cake.
That said, as with all whipped cream, it's best practice to make the whipped cream as close to serving time as feasible.
Leftovers will keep tightly sealed in a nice cold fridge for up to 4 days.
Nutrition Information:
Amount Per Serving:
Calories:

142
Total Fat:

10.8g
Carbohydrates:

11.2g
Fiber:

1.2g
Protein:

1.1g