The Best Chocolate Cake Recipe
As an Amazon Associate, I earn from qualifying purchases.
It took me years to find the best chocolate cake recipe, the one that we'd make again and again. Not uncharacteristically, it took exactly until I stopped thinking I was better than everyone else and opened my eyes and ears to popular wisdom. This cake is adapted from a 1999 issue of Gourmet, via epicurious.com's most popular recipe of all time. Nearly 1,400 reviewers can't be wrong.
This chocolate cake is moist and just the right amount dense, with a tender crumb. In the original recipe, it's frosted with a rich ganache, but we like it better with a lightly sweet raspberry whipped cream, which also has the distinct benefit of being pink.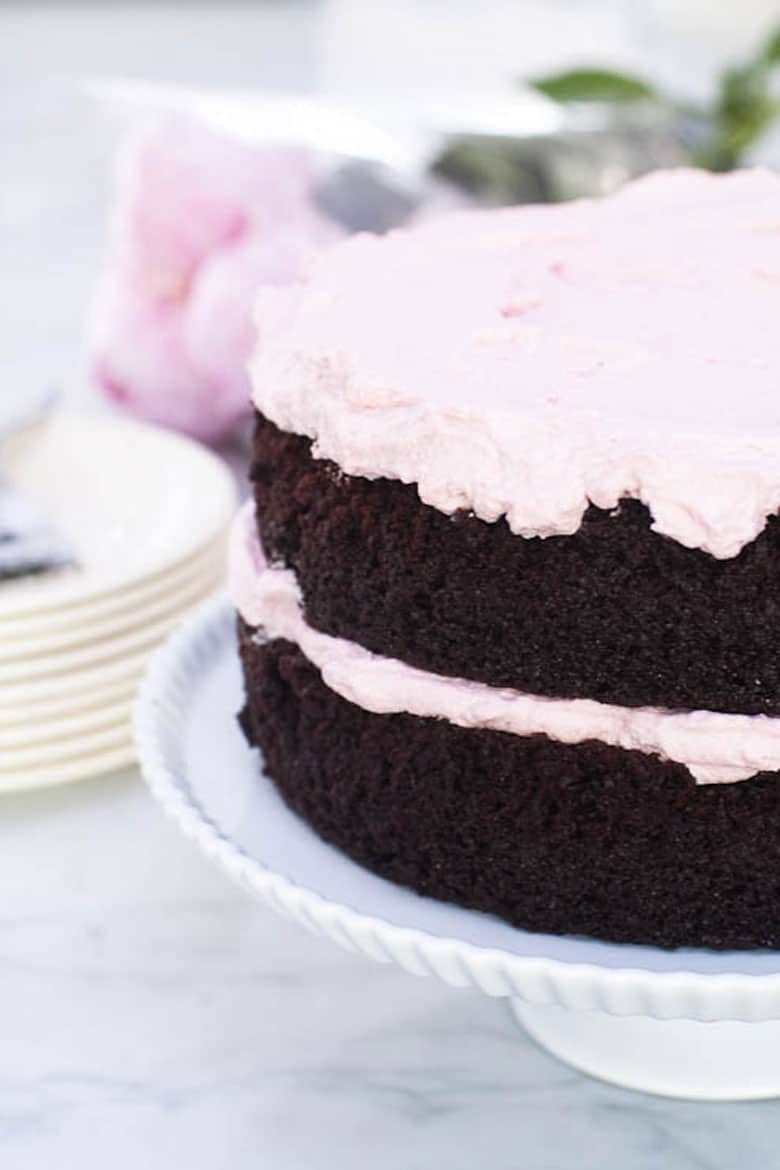 Tip
This substantial layer cake could work with a wide variety of frostings, but we almost always use the Raspberry Whipped Cream pictured here. It's our daughter Celia's favorite combination, and it makes a gorgeous, simple presentation.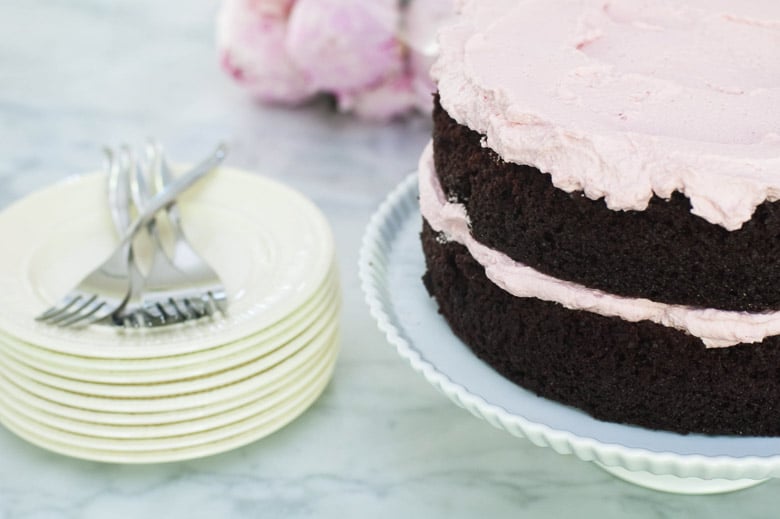 Our Favorite Chocolate Cake
This chocolate cake recipe is the only one you'll need. It makes a large, satisfying, very chocolaty cake with just the right amount of sweetness. Once they've tried it, people request this cake all the time.
Cook Time
1 hour
10 minutes
Total Time
1 hour
25 minutes
Ingredients
3 ounces bittersweet chocolate, chopped (I sometimes use Ghirardelli 60% chips to save on chopping)
1 1/2 cups hot brewed coffee
3 large eggs
3/4 cup vegetable oil
1 1/2 cups well-shaken buttermilk
1 teaspoon vanilla
3 cups (600 g) sugar
2 1/2 cups (300 g) all-purpose flour
1 1/2 cups (120 g) unsweetened cocoa powder, NOT Dutch process (I use Hershey's)
2 teaspoons baking soda
3/4 teaspoon baking powder
1 teaspoon salt
Directions
Preheat the oven to 300° F. (Yup, just 300!) Lightly butter both pans or spray with cooking spray. Cut out two circles of parchment paper to cover the bottoms of the pans. Place them in the buttered pans and butter or spray those, too.
Combine the hot coffee with the chopped chocolate in a bowl. Let sit for a few minutes and then stir until the chocolate is completely melted.
In a large bowl or the bowl of a stand mixer, beat the eggs until thickened a bit and lightened in color, about 4 minutes. Add the coffee-chocolate mixture, oil, buttermilk and vanilla and beat on low until well combined.
Into a large bowl, sift together the sugar, flour, cocoa powder, baking soda, baking powder and salt. Add the dry ingredients to the wet ingredients all at once and mix on low just until well combined.
Pour half the batter into each pan and bake until a cake tester comes out clean, approximately 70 minutes. Let the cake cool completely in the pans on cooling racks. Then run a knife around the sides of each pan and turn out the layers. Remove the parchment. The cake is ready for frosting!
Notes
For this recipe you will need 2 10-inch round cake pans (or use 9-inch pans and bake a little longer) and parchment paper. Adapted from Gourmet, March, 1999 via Epicurious.
Nutrition Information
Amount Per Serving:
Calories::

387
Total Fat::

14.9g
Carbohydrates::

62.7g
Fiber::

3.4g
Protein::

6g