These savory waffles with cheddar and chives work equally well for breakfast, brunch or dinner. Top with a fried egg and a dollop of sour cream for a truly excellent meal.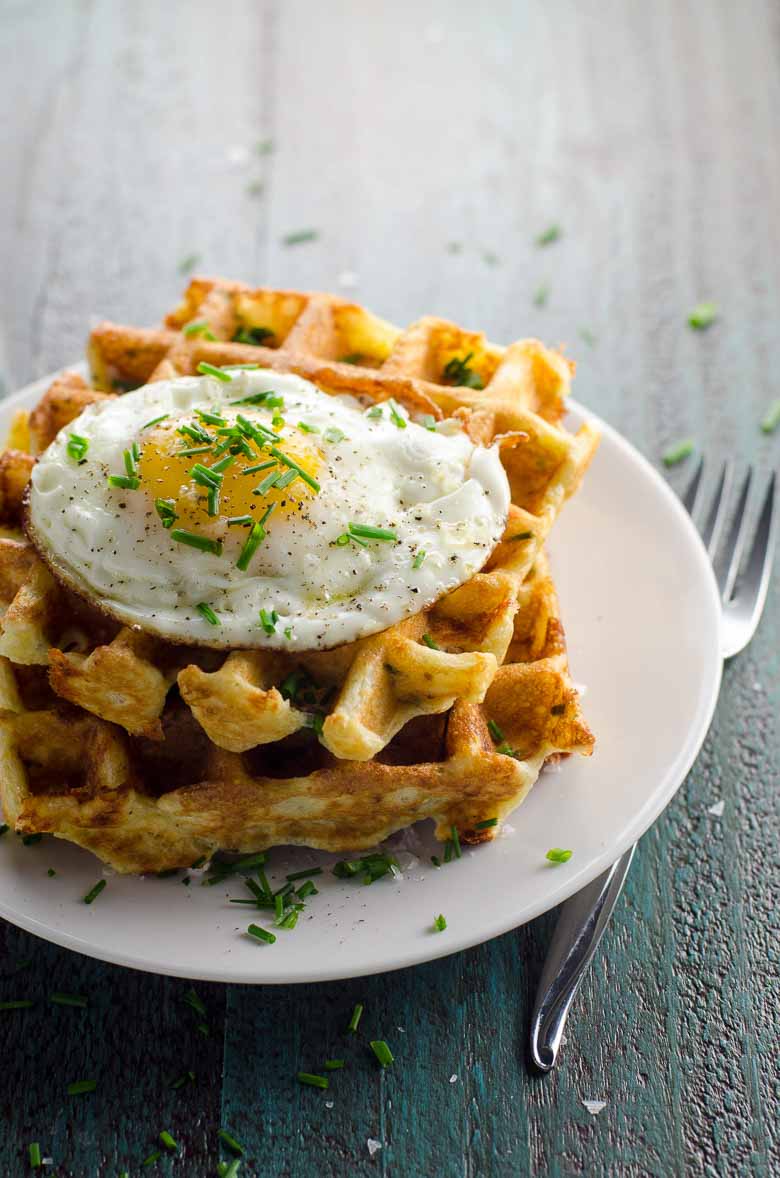 Waffle...everything?
Growing up, we were team pancakes and didn't own a waffle iron. I never minded. I didn't give it much thought until several years ago, when people were suddenly waffling everything from mac and cheese to pizza.
Americans can ruin anything, right? And yet still make you kinda desperately want the thing we ruined? It's a barf-emoji-face/heart-eyes-emoji face vicious cycle.
Savory waffles are a game-changer
I don't have the time or the emotional energy to try to fix that nonsense right now.
But I did get a waffle iron.
And of course, being a true lover of umami, I'm sharing a savory waffles recipe before a sweet one. Cheddar, chives, cornmeal, buttermilk. Go ahead and try to argue with that.
My daughter tried to argue with it, actually. She prefers whipped cream and syrup and vanilla-scented sweetness. Last night, when I told the girls what I planned to make for dinner, she said, "Those aren't exactly my favorite waffles."
So I said, "I bet they're your favorite waffles that I'm going to make tonight."
Cashed in the Mom card. Suck it, sweet waffles. (And basically everything today, can you tell?)
Why we LOVE these savory waffles with cheddar and chives
Anyhoo.
The brilliant crispness of these waffles (which emerges after a quick stint in a low oven) is due to the cornstarch. I first learned this trick from Donna Hay and eventually developed this recipe with some heavy adaptations from Pamela Anderson's waffles in Fine Cooking. (No, not that Pamela Anderson.)
We love these waffles because they make an incredible breakfast, brunch, lunch, or dinner. They make the house smell amazing. They're loaded with flavor and somehow also with comfort. They welcome a fried egg on top and a dollop of sour cream if you like. And they just make you happy. How's that?
Waffle ingredients
To make this meal, you will need:
Flour
Cornmeal
Cornstarch
Baking powder
Baking soda
Salt and pepper
Buttermilk
Eggs
Melted butter
Extra-sharp cheddar cheese
Minced chives
And, if you like, a fried egg and a dollop of sour cream for serving
How to make savory waffles
There's nothing fancy or difficult about making waffles with cheddar and chives. You can watch the whole process in the video accompanying this post. Here's what you'll do:
First, mix together the dry ingredients in a medium mixing bowl. You'll stir together the flour, cornmeal, cornstarch, baking powder, baking soda, salt, and pepper until they're well-combined.
Next, in a bowl or glass measuring cup (our preference), you'll beat together with a fork the buttermilk and eggs until they're well-combined.
You'll add the wet ingredients to the dry ingredients and stir gently but thoroughly.
Then stir in some melted butter, and then shredded cheddar and minced chives.
You'll cook the batter in batches in your preheated waffle iron until the waffles are golden brown.
And you'll pop them into a low oven (just 200°F/93°C) directly on the rack for a couple of minutes to crisp them up a little extra on the outsides if you like.
Waffles are ready to serve! We recommend a fried egg on top and a dollop of sour cream.
About our waffle iron
I don't take the buying of single-purpose kitchen tools lightly, but we could not be happier with our waffle iron. This is the waffle iron we've had for a few years now, and I'm still as madly in love as ever.
Can you make these waffles in advance?
You can! Let's say you're hosting a big brunch and want to make a whole bunch of these waffles ahead of time. Or maybe you want a workweek's worth of quick but fabulous breakfasts or dinners. You got it!
Make the waffles and simply reheat and recrisp them either in the oven at 200'F (for a big batch) or in the toaster oven for a single serving.
Add-ins and substitutions
We think these waffles are perfection the way they are. But you can have a little fun with your own variations if you like. You could:
Add a minced shallot to the batter
Swap out the cheddar cheese for Gruyere or smoked gouda
Stir cooked, crumbled bacon into the batter
Top them with smoked salmon
What to serve with savory waffles
If you like, try these waffles with:
Yield: Serves 4
Savory Waffles with Cheddar and Chives
It's a true testament to my umami love that these savory waffles are the first waffle recipe I've ever posted. They make a wonderful breakfast or brunch but are equally good for dinner. Top each serving with a fried egg and serve with a dollop of sour cream if you like. This recipe makes eight or nine waffles in my waffle iron, which takes ½ cup batter per waffle, but your mileage may vary.
Ingredients
1 cup (120 grams) all-purpose flour
½ cup (70 grams) yellow cornmeal
¼ cup (28 grams) cornstarch
1 teaspoon baking powder
½ teaspoon baking soda
1 teaspoon salt
A few good grinds black pepper
2 cups buttermilk
2 large eggs
4 tablespoons (56 grams) butter, melted and cooled slightly
3 ounces (84 grams) extra-sharp cheddar, shredded
⅓ cup minced fresh chives
Instructions
In a medium mixing bowl, stir together the flour, corn meal, cornstarch, baking powder, baking soda, salt and pepper.
In a small bowl or glass measuring cup, whisk together the buttermilk and eggs. Pour into bowl with dry ingredients and mix gently but thoroughly. Pour in the melted butter and stir to incorporate. Then stir in the cheddar and chives.
Preheat oven to 200°F with a rack in the center. Preheat waffle iron to medium or medium-dark setting. (Waffle irons vary tremendously, so you may have to experiment a little.) Pour in as much batter as your waffle iron's instructions recommend and cook until golden. Gently remove each waffle from iron and place directly on oven rack. The waffles will still be slightly soft when they come out of the iron but will crisp up on the outside and stay tender on the inside while they rest in the oven.
When all waffles are cooked and have had a couple of minutes in the oven, serve with fried eggs on top and a dollop of sour cream if you like.
Recommended Products
As an Amazon Associate and member of other affiliate programs, I earn from qualifying purchases.
Nutrition Information:
Amount Per Serving:
Calories:

486
Total Fat:

23g
Carbohydrates:

52.2g
Fiber:

2.4g
Protein:

17.4g