If you've been looking for a thoughtful, modern, and sustainable Christmas gift that skips the supply chain entirely, look no further. If Nothing Else is a charming, bite-sized daily newsletter for you and all your favorite folks. Ready to buy? Click here. Or read on to learn more.
The Umami Girl shop
First things first. I'm so excited to be launching a proper Umami Girl Shop for this holiday season and well beyond. It couldn't be tinier right now, and I love that. I'm pouring all my energy into this one little gift, called "If Nothing Else."
Here's me sharing a little background on this project
"If Nothing Else"
What is it?

A single, delightful sentence delivered to your gift recipient's inbox and yours each day for a year. Point being: If nothing else goes brilliantly today, at least we've got this.

How does it work?

When you place an order, you and your gift recipient will both receive the newsletter — so don't order a separate one for yourself. If you'll be giving the gift to multiple recipients, then you will need to order multiple subscriptions. See below for a discount code.

When does it start?

For orders placed before January 1, 2022, your welcome message will arrive that day, and subsequent messages will run until December 31, 2022.

For orders placed after January 1, 2022, your welcome message will arrive on the day you place the order, and subsequent messages will run for the following 365 days. 

What will the sentences be about?

Great question. Let's start with what they won't be about. They aren't topical or news-related, or even seasonal.

They'll be whimsical, with a mix of tones and subjects, trending toward delight and humor. Some will be charming facts. Some will be very, very short, funny stories that draw from life experiences. Occasionally they'll link to a really great recipe or song or something else beautiful.

See below for sample emails.
What's this about making a donation?

The more I researched what the 2021 holiday season would look like, the more I learned about how polarized it's become to have the means to give. Total holiday spending is likely to trend upward this year in the United States, but many, many people are not able to afford gifts at all.

I know I can't solve this epidemic on my own, but I did think of one small way that together, we can help.

I've included an option during payment to make a donation to World Central Kitchen, the charitable organization of Chef José Andrés. It's totally optional, but I think some gift recipients will really appreciate it.

Notifying your recipients of their gift
Until January 1, 2022, you'll have the option of printing out a foldable gift card from your confirmation email or telling the recipient any other way you choose — we don't want to spoil any holiday surprises.
Starting January 1, 2022, your recipient will receive a welcome email that lets them know what to expect from your gift, and who sent it.
Discount code
Use the 50% discount code SQUAD at checkout when you buy five or more subscriptions. This is a great group gift that only gets more fun as you share it with more people.
Sample emails
Here are a few sample emails to give you a taste of what topics they'll cover, and what they'll look like in your inbox.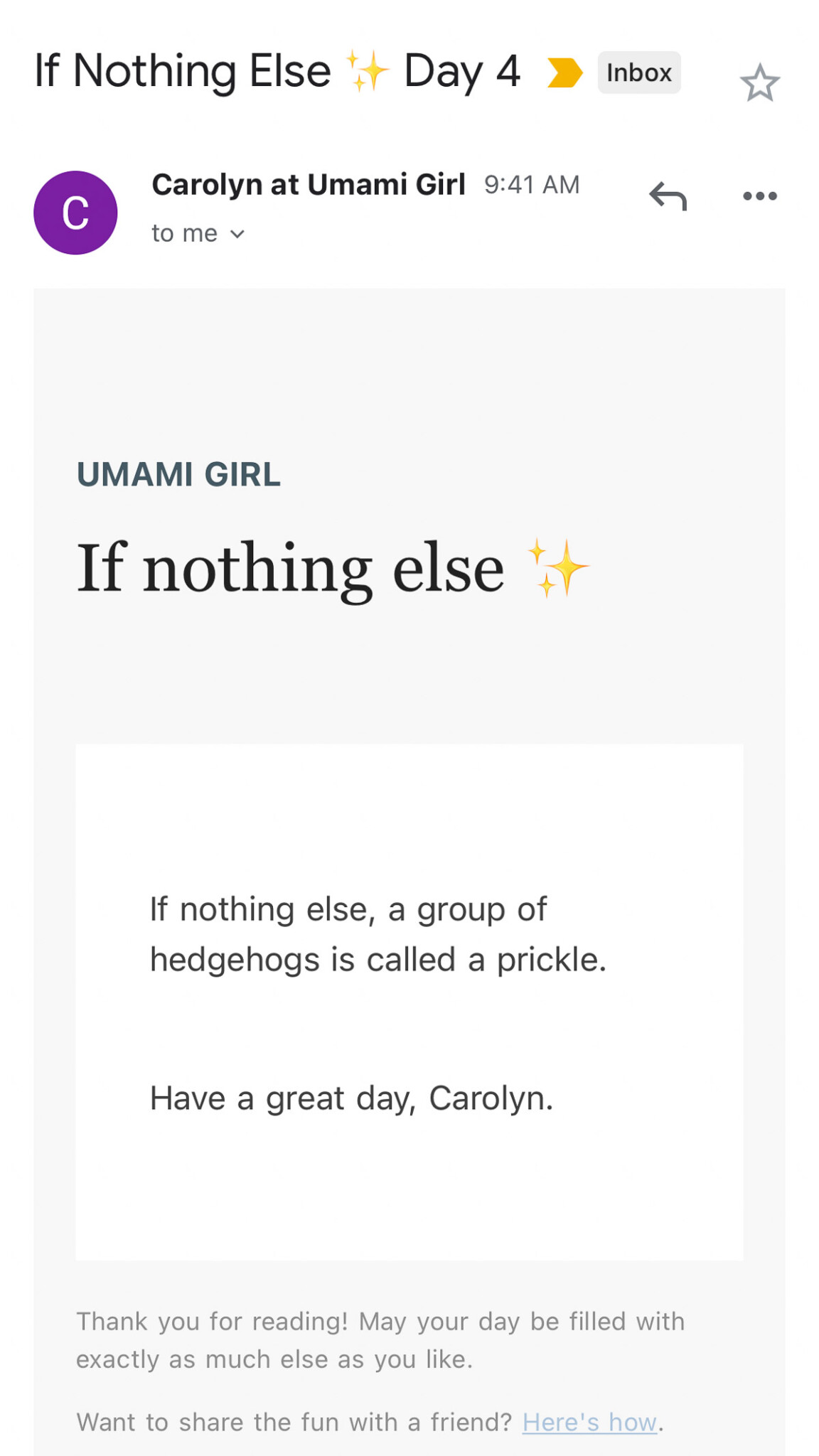 Have questions?
Feel free to leave a comment below, or contact me via email.
More Christmas essentials