Raspberry lemon cheesecake is perfection. It's smooth and creamy, delicately flavored, and classic. And while it takes a bit of advance prep, it's easier than you may think. Don't miss it.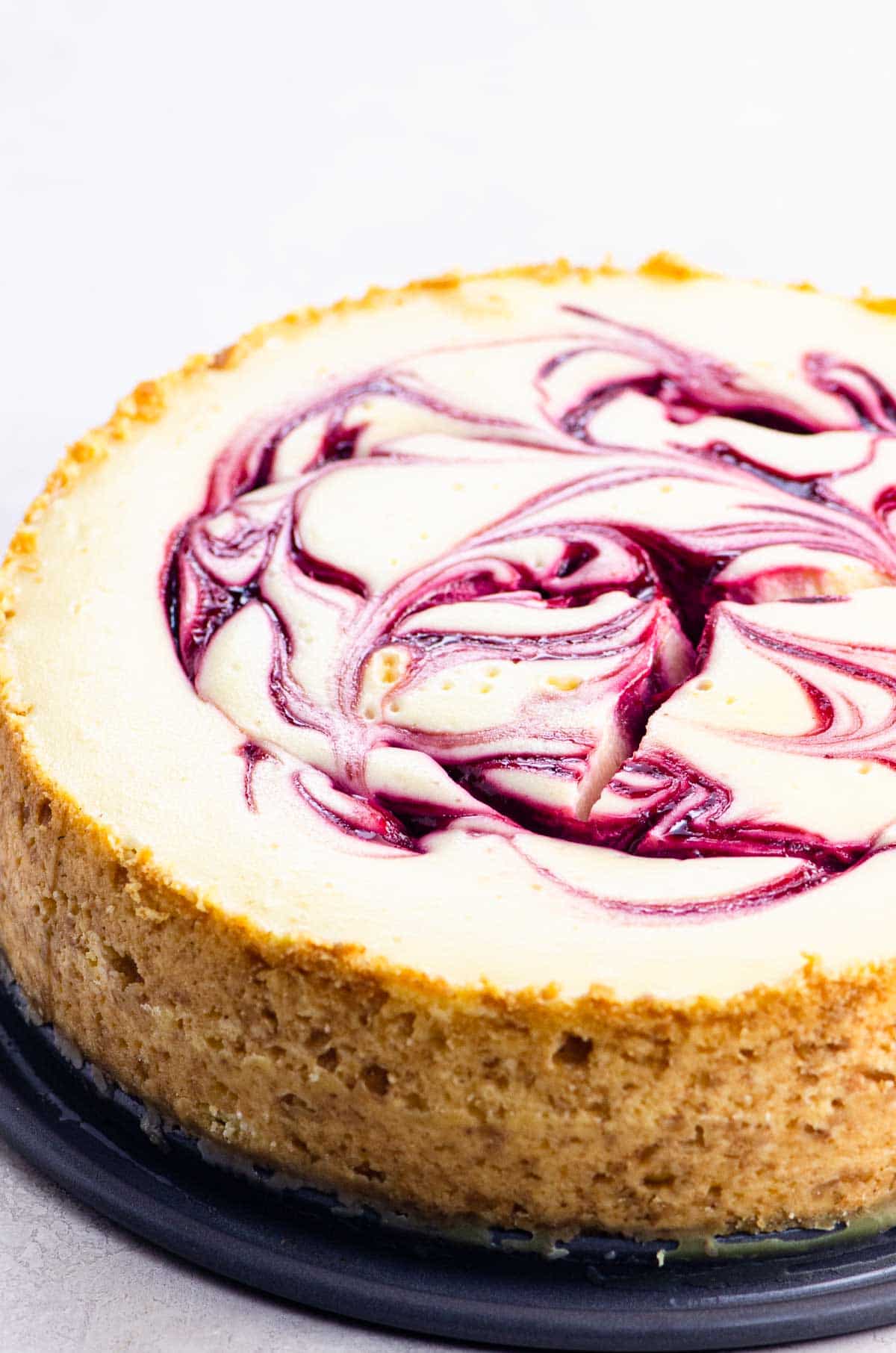 Why we love this recipe, and why it works
This just-right cheesecake recipe is creamy, satisfyingly but not absurdly dense, flavored with hints of vanilla and lemon, and not overly sweet.
A gentle raspberry swirl and a touch of extra lemon flavor are the casual dress that make this version a little extra special. The raspberry augments the flavors without overpowering.
This recipe works because:
Having the ingredients at room temperature helps them mix together smoothly.
A little bit of sour cream and a touch of lemon add the subtlest tart dimension to the mix.
Baking at a low temperature in a water bath and then leaving the cake in the oven results in a perfectly creamy, evenly baked filling.
Chilling the cake overnight after cooling completely allows you to slice it into the neat wedges you'd expect from a great cheesecake.
What you'll need
Here's a glance at the ingredients you'll need to make this recipe.
A "sheet" of graham crackers means a whole sheet of four perforated crackers. Four of these should yield about ½ cup of crumbs. To make this recipe gluten-free, use GF graham crackers.
Use good old blocks of cream cheese. (Two pounds is four eight-ounce blocks.) Don't use whipped cream cheese or the softer kind that comes in tubs. It won't yield the right consistency.
You can use frozen raspberries or fresh. I usually use frozen.
How to make it
Here's what you'll do to make a beautiful raspberry lemon cheesecake. It takes a little advance prep, but it's easier than you might think. You can see all the steps in action in the video that accompanies this post, and get the details in the recipe card below.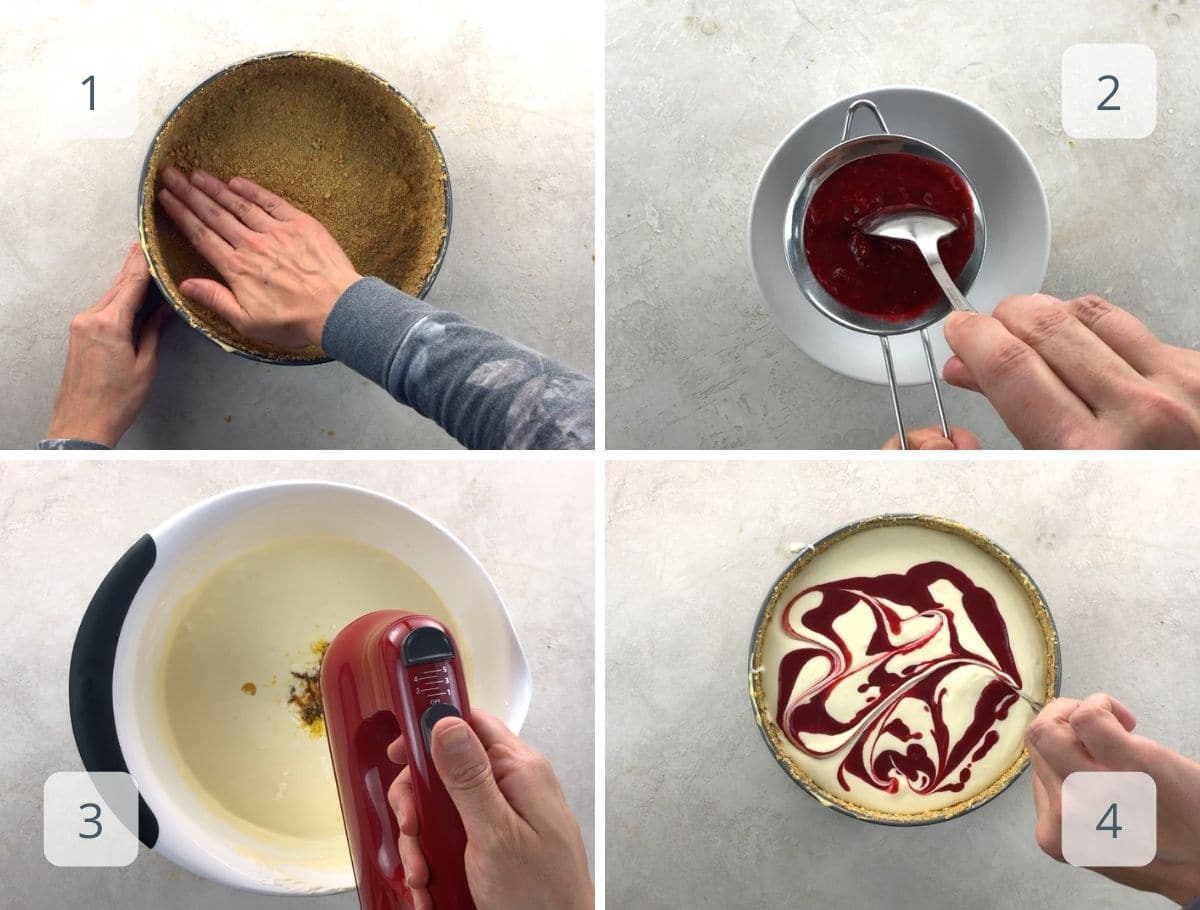 To make the thin crust, spread the butter all over the bottom and sides of the pan. Crush the graham crackers into crumbs and pour them into the pan. Tilt and tap the pan around until it's coated with crumbs. Then tap out any excess.
Blend the raspberries and the two tablespoons of sugar together until smooth and strain the puree to remove all the seeds.
Beat the cream cheese and gradually add the sugar, eggs, creams, and flavorings. You'll mix until smooth and creamy without incorporating too much air.
Pour the filling into the crust, pour on the raspberry puree, and swirl. Bake in a water bath (see recipe card for details) and then leave in the oven with the door ajar. Cool, then chill overnight. Your cheesecake is ready!
Expert tips and FAQs

What are the different styles of cheesecake?

People have a lot to say on this topic, and you can read a little bit about it here. This recipe is not strictly New York style — purists have strong opinions about what this style can and cannot be — but in my opinion it draws out the best features of New York Style cheesecake.

It's dense, creamy, and delicately flavored, without a lot of hoopla, and clearly has its priorities in good order.

Can I make this recipe in advance?

Yes! Not only can you do so, but you must. Cheesecake has a bit of a long timeline. First, all the ingredients have to be at room temperature, so you'll need to take them out of the fridge several hours before, if not the night before.

The baking process is fairly long, because the cake bakes for about an hour and then rests in the oven (turned off, with the door ajar) for another hour.

Then you'll need to cool the cake completely, wrap it up, and chill it overnight before slicing and serving.

How do you mix cheesecake batter?

The key is to have all ingredients at room temperature so that they mix easily. After that it's all about mixing well without incorporating excess air. Refer to the recipe card below for detailed instructions.

How do you slice cheesecake?

Use a big, sharp knife (I use a chef's knife) and wipe it clean between cuts to get nice neat slices.

How long do leftovers keep?

You can store tightly covered leftovers in a nice cold fridge for up to a week.

Can I substitute other fruits?

Yes! Instead of raspberries, you could use an equal amount of strawberries, blueberries, blackberries, or cherries.

I consider lemon juice and zest to be integral to classic cheesecake, but you could play with swapping in Meyer lemon, lime, or orange if you like.

More favorite classic desserts
Yield: 12
Raspberry Lemon Cheesecake
Raspberry lemon cheesecake is sheer perfection. It's smooth and creamy, delicately flavored, and classic.
Total Time
13 hours
40 minutes
Ingredients
For the crust
2 tablespoons (28 grams) salted butter
4 sheets graham crackers (for ½ cup crumbs)
For the raspberry swirl
6 ounces (166 grams) raspberries
2 tablespoons (25 grams) sugar
For the filling
2 pounds (907 grams) cream cheese
1 ⅓ cups (266 grams) sugar
4 eggs
¼ cup (59 ml) heavy cream
¼ cup (60 grams) sour cream
Zest of 1 lemon
1 tablespoon freshly squeezed lemon juice
2 teaspoons vanilla
Instructions
Have all ingredients at room temperature. Preheat oven to 325°F with a rack in the center.
Spread the butter all over the bottom and sides of a 9-inch springform pan.
Crush the graham crackers into crumbs. You can do this in a sealed plastic bag with a rolling pin or in a food processor. Pour the graham cracker crumbs into the greased pan and tap to distribute them around the bottom and sides, forming a thin crust. Tap out any excess.
Place the raspberries and the two tablespoons of sugar into a blender and process until smooth. Pass the puree through a fine-mesh strainer to remove all the seeds.
In a large mixing bowl, beat the softened cream cheese for 30 to 60 seconds, just until smooth. Scrape down the sides of the bowl.
Pour in the sugar little by little and beat until smooth and creamy, a minute or two.
Add the eggs one at a time, beating until just incorporated and scraping down the sides of the bowl as necessary.
Add the heavy cream, sour cream, lemon zest, lemon juice, and vanilla. Beat briefly, just until combined.
Pour creamy filling into crust.
Pour raspberry puree over creamy filling. Use a knife to swirl it into the top of the filling any way you like. (Refer to video for visual cues.)
Wrap the outside of the pan tightly with foil. Place the pan into a roasting pan or large baking dish. Position the pan on the center oven rack and then carefully pour boiling water into the outer roasting pan to reach halfway up the sides of the cheesecake pan.
Bake for 55 to 60 minutes, until the outsides of the cake are set and the center still jiggles when you move the pan.
Turn off the oven and leave the door ajar (you can use a utensil to prop it open). Let the cake rest in the oven for an hour.
Remove cake from oven and from water bath. Remove foil. Let cake cool completely in pan.
Cover cake and refrigerate overnight to chill through completely.
Carefully remove outer ring from cake and serve.
Notes
Starting with all ingredients at room temperature is very important to achieve the creamiest result.
A graham cracker sheet means a whole sheet of four perforated crackers.
To make this recipe gluten-free, use GF graham crackers.
Use the good old cream cheese that comes in 8-ounce blocks. Softer cream cheese in tubs or the whipped kind won't work.
Tightly covered leftovers keep well in the fridge for up to a week.
This recipe is adapted from Joy of Cooking.
Nutrition Information:
Yield:
12
Serving Size:
1
Amount Per Serving:
Calories:

459
Total Fat:

33g
Saturated Fat:

19g
Trans Fat:

0g
Unsaturated Fat:

11g
Cholesterol:

152mg
Sodium:

303mg
Carbohydrates:

35g
Fiber:

1g
Sugar:

30g
Protein:

8g