Here's how to set up a crowd-pleasing taco bar. Plus, the recipe for a great tangy cabbage slaw for tacos of all kinds.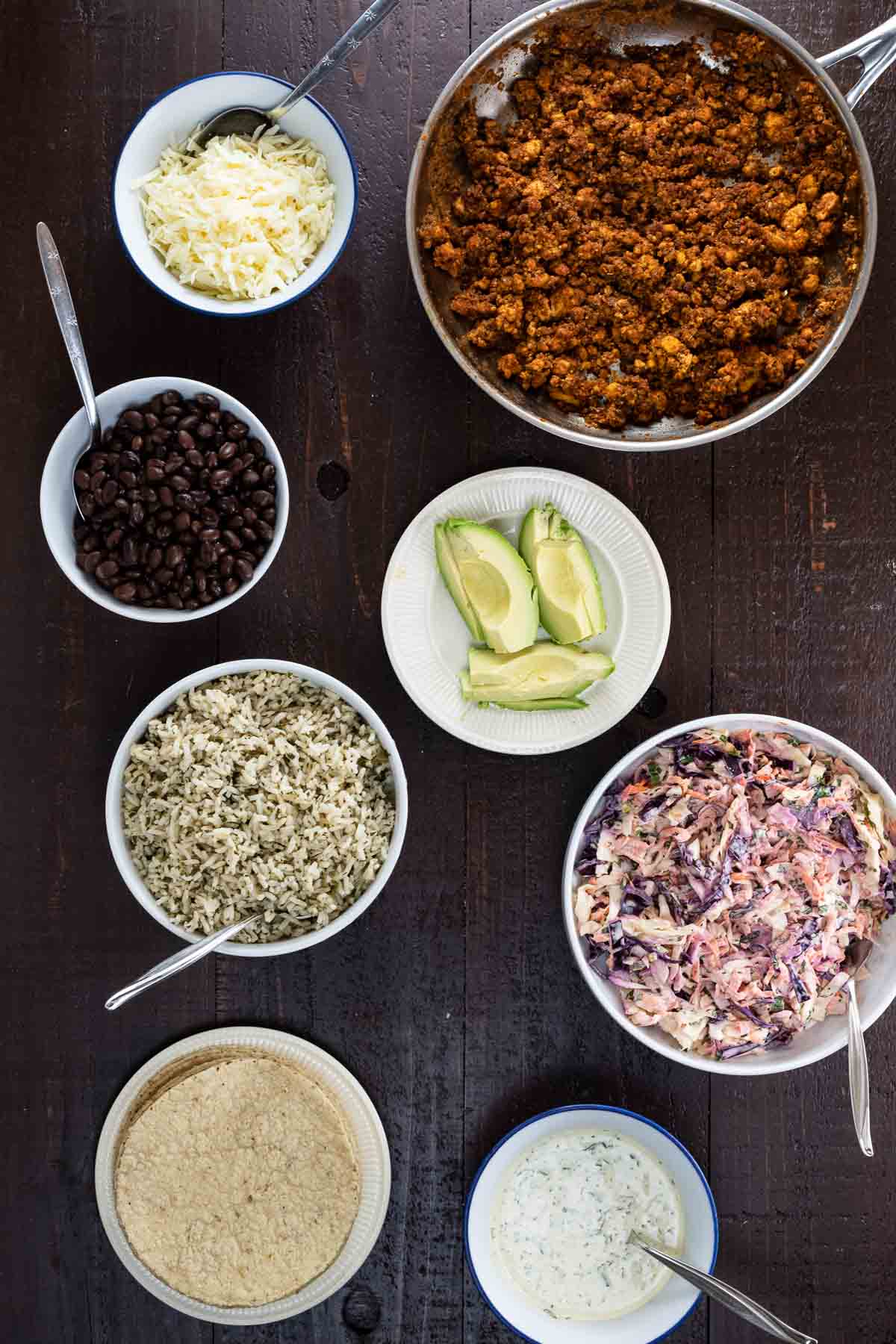 A taco bar is casual entertaining at its best
My favorite gatherings are relaxed, easy, and fun. Assembling a taco bar from a combination of make-ahead-friendly recipes and purchased elements gives you limitless flexibility. Whatever the size of your crowd, dietary preferences, time constraints, and budget, there's a version of this party that will work for you.
A good taco bar includes:
A couple of flexible protein choices to meet various needs — think shredded chicken and sofritas, or garlic shrimp and savory black beans
A few bases that make it easy for people to turn the ingredients into tacos, salads, or burrito bowls
Easy topping and side dish options galore
At least one fun nonalcoholic and one alcoholic beverage (if you're into that sort of thing)
Proteins
When possible, I like to offer two proteins for people to choose from. This is an easy way to ensure that your offerings will suit a wide variety of dietary preferences, while keeping things interesting for everyone. Here are our most popular choices.
Bases
Here's where you can give people all the format options they could ever want. While it's called a taco bar, some guests may prefer to make salads or burrito bowls. I like to offer:
Sauces
As far as I'm concerned, you can never have too many sauce options. Some of these phenomenal homemade choices are among our most popular recipes, and I recommend making at least one from scratch when possible. That said, there are so many great ready-made options too, so never let a lack of extra time stop you from throwing a taco party.
Your favorite hot sauce
Jarred salsa
Slaws
A crunchy element helps make good tacos great. Here are our favorites — I rarely make tacos without including one.
Tangy cabbage slaw (recipe below)
Cheeses
One true fact when all else fails is that the shredded cheese at your taco bar will disappear faster than you think. Our favorite cheeses for tacos are:
Shredded extra-sharp cheddar or pepper jack
Crumbled cotija, queso fresco, or queso blanco
Finishing touches
Here are a few more easy elements to add a pops of flavor and color to a taco bar.
Lime wedges
Sliced olives (either black or green with pimento)
Fresh cilantro leaves
Sliced fresh or pickled jalapeños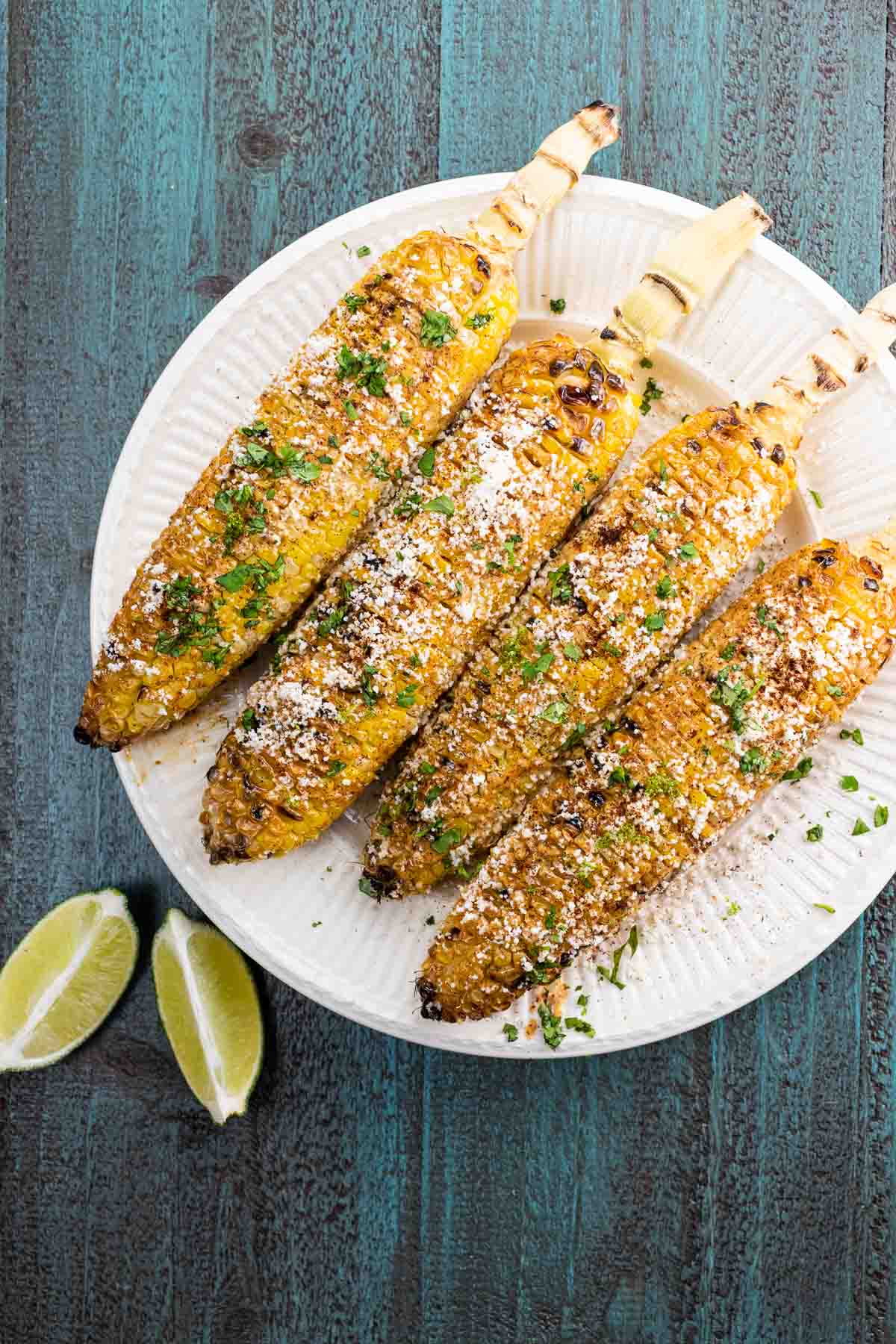 Sides
Beans and veggies help round out your plate of tacos or bulk up your burrito bowl. Here are a few of our biggest crowd-pleasers.
Plain black or pinto beans
Beverages
Don't forget the drinks! I like to offer one nonalcoholic and one alcoholic beverage.
Mexican soda (try Jarritos)
Mexican beer (try Corona, Dos Equis, or Modelo)
Bonus: starters and snacks
It's not really necessary to include one of these at a taco bar, but people sure do love them. You can set them out ahead of the main meal or simply add them to the mix, whichever makes more sense for your party.
Expert tips and FAQs
How do you keep tortillas warm?

Warm tortillas make all the difference. Depending on the size and length of your party, you've got a few options. You can wrap a stack of tortillas in foil and heat in a 250°F oven (or in a damp, lint-free dish towel to warm in the microwave), then bring straight to the table. Doing this a couple of times during a shorter party may be all you need.

Another great option is to place a wrapped stack of tortillas in your slow-cooker and set it to low. Or, if you're keeping something else warm in your slow-cooker and can find a baking dish that works size-wise, you can create a double-decker warmer. Place the tortillas in a baking dish that catches the rim of the slow cooker but allows the rest of the dish to sit inside the cooker, then place the lid on top of that.

If you serve tortillas frequently, it may be worth making a small investment in a tortilla warmer. They come in lots of materials and sizes to suit your needs and are available online.

Yield: Serves 8
Tangy Cabbage Slaw for Tacos
A crunchy element makes good tacos great. This tangy cabbage slaw is bright, bold, and beautiful, and it works well with tacos of all kinds, from fish to pork and beyond.
Additional Time
10 minutes
Ingredients
For the dressing
½ cup (112 grams) mayo
1 tablespoon (15 ml) freshly squeezed lime juice
1 tablespoon (15 ml) freshly squeezed lemon juice
Zest of 1 lime
1 large garlic clove, minced
½ teaspoon fine sea salt
¼ teaspoon freshly ground black pepper
For the slaw
3 cups (185 grams) shredded green cabbage
1 cup (70 grams) red cabbage
1 cup (100 grams) shredded carrot
½ cup (30 grams) chopped fresh cilantro
2 scallions, quartered lengthwise and sliced
Instructions
In a large mixing bowl, whisk together the mayo, lime juice, minced garlic, salt, and pepper.
Shred the cabbage with a chef's knife or the shredding disc of a food processor.
Shred the carrot on the large holes of a box grater or with the shredding disc of a food processor.
Add shredded cabbage and carrot and the chopped cilantro and scallions to the mixing bowl.
Toss slaw to coat it all with dressing.
Before serving, let it rest at room temperature for at least 10 minutes or in the fridge for at least an hour to allow the flavors to combine.
Notes
If you don't like mayo, you can substitute two tablespoons olive oil. The slaw will have a different vibe that's also really great.
You can substitute 5 cups of pre-shredded coleslaw mix for the cabbages and carrot. You'll still add the cilantro and scallions on your own, as well as the dressing.
If possible, I prefer to let coleslaw rest in the fridge for at least an hour or two before serving, since it really helps the flavors blend. You can make this recipe up to a week in advance and store it (or any leftovers that haven't been out at room temperature for too long) in an airtight container.
How to shred the cabbage
You've got two excellent options for shredding the green and red cabbage. Either way, you'll start by removing any gnarly outer leaves, quartering the cabbage, and coring it.
You can see this process in action in one of my very early videos. It's awkward AND instructional! For coleslaw I like to cut each cabbage quarter lengthwise into three or four pieces before shredding so that the strands won't be super-long — but the video will give you a good basic idea of the process.If you have a standard food processor, you can use the shredding disc to get nice, short, even shreds of cabbage for coleslaw. If not, simply use your chef's knife as shown in the video to cut each section crosswise. It takes longer but is perfectly manageable, promise.
How to shred the carrots
If you're using a food processor to shred the cabbage, run the carrot through that as well. Otherwise you can use the largest holes of a box grater. Some carrots release quite a bit of moisture when shredded, so if you like, you can blot them dry between layers of paper towel before incorporating into the recipe.
How to cut the scallions
You'll use both the white and green parts of your scallions in this recipe. While it's okay to simply slice them into thin discs, I prefer to quarter them lengthwise first. This quick step means you'll end up with fine pieces that incorporate well into the slaw, rather than little rings and wheels that don't quite meld into the whole.
Nutrition Information:
Yield:
8
Serving Size:
1
Amount Per Serving:
Calories:

25
Total Fat:

0g
Saturated Fat:

0g
Trans Fat:

0g
Unsaturated Fat:

0g
Cholesterol:

0mg
Sodium:

143mg
Carbohydrates:

6g
Fiber:

2g
Sugar:

3g
Protein:

1g